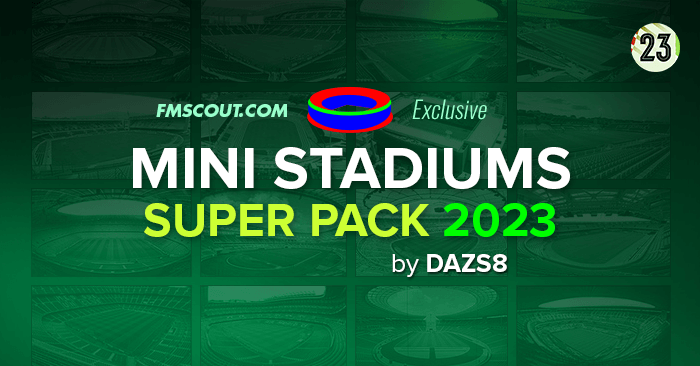 Mini Stadiums Superpack
Stadium pictures for home screen, team info screen, news screen, match-day and in the processing bar. It will depend on your skin of choice though.
These will not work on the default skins, a custom skin needs to be used. Recommend skin:
FLUT Skin
.
The pack was put together and maintained by
DazS8
until 2019. It includes over
9,700 stadiums
from over 50 countries and over 100 divisions around the world.
If you wish to help expand and/or improve our collection of mini stadiums, feel free to share your contributions in the comments and we'll incorporate them in the pack.
The pack currently has the same files as the ones for FM20, FM21 and FM22.
Stadiums Preview
How to add Mini Stadiums on Football Manager 2023
Download the .rar archive and use a tool such as 7-zip for Windows or The Unarchiver for MacOSX to extract its contents.


Move the extracted contents to your graphics folder:
\Documents\Sports Interactive\Football Manager 2023\graphics\
Create the folder "graphics" if it doesn't exist already.


Run Football Manager 2023 and go to Preferences > Interface:
Hit the Clear Cache button. Return to this screen.
Enable Reload Skin when confirming changes in preferences
Hit the Confirm button
Thanks
Mons
kizar
Deano1903
geordie1981
Evil-Muffin7
joecondor
Cizzu
tv_capper
tyler16
Vlastik14
Romme90
keysigame
Persee
Dazs8