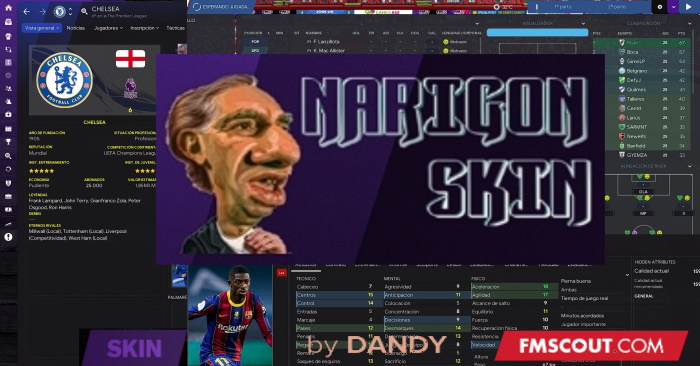 For years, I have customized my skins because I like simple skins and panels of different skins.
This year I will selflessly publish my first skin just to share and hear recommendations.
Remember, my work is totally free
Last update V1.27
* New detaill panel club

-->
NARIGON Skin 1.27 Only Hidden Attributes:
Not visible CA PA RCA
-->
NARIGON Skin 1.27 Hidden CA PA

-->
NARIGON Skin 1.27 Only Hidden SOLID:
Not visible CA PA
-->
NARIGON Skin 1.27 Hidden CA PA SOLID
To see these attributes, it is necessary to buy DLC editor ingame on steam:
https://store.steampowered.com/app/1635960/Football_Manager_2022_Ingame_Editor/
Background selector:

Default Style
SOLID Style
Previous updates:
NARIGON Skin:
Credits and Thanks:
Base22 Skin
by
michaeltmurrayuk
OPZ Elite Skin
by
OPZ
TangFu Skin
by
Tracisloo
Heffem Skin
by
Krysler76
MichaelMurrayUK
(mods & widgets)
Support received SI Forum
by
bluestillidie00
NARIGON Skin was created from Base22 Skin.
A simple customized skin that prioritizes information in panels over graphics.
Instructions:
1. Download the .rar archive and use a tool such as WinRar for Windows or The Unarchiver for MacOSX to extract its contents.
2. Move the extracted folder "NARIGON Skin v1.xx xxxxxxx" to your skins folder: User\Documents\Sports Interactive\Football Manager 2022\skins\
3. Run Football Manager 2022 and go to Preferences > Interface. You should see "NARIGON Skin v1.xx xxxxxxx" as an option in the skin drop down. Make sure you've unticked "Use caching to decrease page loading times" and ticked "Reload skin when confirming changes in Preferences". Hit the Confirm button.