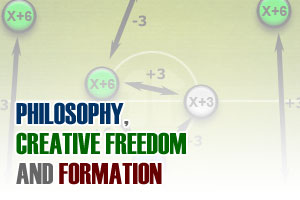 The discussion that lead to this article has been originally posted on Sports Interactive forums.
Philosophy and creative freedom
As most of you have noticed,
the more fluid the philosophy is, the more creative freedom
. And, the less fluid the philosophy is, the more different mentality units. Actually, here is a convenient breakdown.
Very Rigid - 5 specialized functions + very low CF : Defence, support defence, support, support attack and attack
Rigid - 4 bands + Low CF : Defense, support defence, support attack and attack
Balanced - 3 duties + average CF : Defence, support, attack
Fluid - 2 groups + high CF : Defensive groupes, attack group
Very Fluid - 1 unit + very high CF : 1 team
Philosophy are mentality frameworks with differents levels of creative freedom. More importantly, philosophies are concepts.
For example, a
very rigid
framework means your tactic could be broke down in several specialized functions. That's why
rigid set-up is suited to specialized roles
. Thus, tactical commitment from your players is required for your tactic system to work as you intended, engineered it. It makes no sense to give high CF
to all the team
since your logic is to control as precisely as you could what each player do. But (that's a big but), it does not mean you can't give one or two players a high CF.
Indeed,
in your very rigid set-up, you are going to need some flair and creativity
somewhere. That's what attacking specialized roles are for, like trequartista, complete forward or playmaker. Your system still
need some freedom but only for some players
and this flair is precisely integrated in your tactic set-up. For example, a very specialized (though creative) set-up could be a narrow 41212:
DMC : DLPM - S (attacking specialized role more CF)
MCR : APM - S (attacking specialized role - more CF)
MCL : BWM - D (defensive specialized role - less CF)
AMC : Trequartista (attacking specialized role - maximum CF)
STL : Complete forward - S (attacking specialized role - more CF)
STR : Poacher - A (no-nonsense specialized role - less CF)
In a
very fluid
set-up, the thinking is completely the opposite. The "global mentality" should be seen as "no specific functions" and everyone could contribute to all 4 phases if he sees fit (defense -> attacking transition -> attack -> defensive transition). Even if it means disregarding tactical instructions. Moreover,
with a global mentality, you are not giving precise risk/reward awareness on a player-small group basis
, just a global one and everyone as the same, allowing everyone to make risky decisions. Thus, it makes sense to let the player completely use their decision making to full, thus giving high CF. They may divert from your instructions, but that's the logical consequence of a "very fluid" concept. A very fluid set-up could be a 442 like:
DL : Wingback - A
CB - Central defender - D (x2)
DR : Fullback - St
ML : WM - S
MCL : CM - D
MCR : CM - S
MR : Winger - A
STL : DLF - S
STR : AF-A
You could have "anchored" that set-up a bit by restricting some players regarding tactical role and creative freedom. For example, if you think your CM should very clearly only do defensive work, then go for a BWM - D as it lowers CF and has a specific set of instructions. If you think your striker needs to be a fox in the box only and not contributing play, then go for a poacher since it has lower CF as well. On the contrary, switching from a CM-S to a AP-S is less likely to make a difference since your already have high CF. Of course, you may want a creative specialized type of player if you want this job to be carried out precisely.
Formation and mentality
Regarding formation and philosophy, that's a topic I particularly like. It's not necessarily about space but more about how mentality is spread in your particular formation. Actually,
philosophy does not relate to movements between line. Roles and duties are creating movement between lines.
Typical examples are 433 and 4231.
Usually, when I play a 433, I am building my team around a defensive unit of 3 (CB-CB-DMC) and I am heavily relying on wings to create chances and building up possession phases. Thus, I want risk averse players in the center and more risky choices on the wings. To enhance that mentality contrast within my 433, I pick a balanced philosophy, here is a little diagram.
X is mentality of the defensive unit of three, that's what I call « base mentality ». Then support mentality is X+3 from this base mentality, 3 notches higher than players with a defend duty. Then attack mentality is X+6, 6 notches more than defend duty. All of this is done only by using the tactical creator without any slider tinkering because I want to remain flexible. Here, my defensive triangle is clearly instructed to be more risk averse than the rest of the team. With a very fluid set-up, it would not have been the case. Then my wingback have 3 notches more so there is clear difference in mentality so they should take more risk. It could have been 6 notches more if I'd picked an attack duty, thus creating more mentality contrast. If'd pick a fluid philosophy, I would not have that risky behaviour (whatever duty) for my wingback. Of courses, his behavior is highly dependent on role/duty I have picked.
In a 4231, I usually want two deep CMs protecting my defense, recycling and dictating play. I want my attacking triangle to be close to each other and my lone forward to lead the line. I don't want too much difference of risk/reward between my winger and my fullback so they worked together. Moreover, I want a clear possession based midfield line of (DL-CML-CMR-DR), so they should have the same mentality.
Here is the rigid mentality frameworks for a 4231 with DLP-S and AP-A in AMC spot. My lone forward is clearly leading the line with X+6 mentality/attack duty. My attacking triangle players are close to each other with CM-D, DLP-S and AP-A with RDF either rarely (that's what protecting the defense, RFD=rarely whatever the mentality) or sometimes and a short mentality gap. My CMs and FBs are in the same mentality group (transition-support) witj CM-D, FBs at X+2 and my DLP - S is connecting CBs to midfield, provinding a simple passing outlet with a X mentality. So, I am shortening mentality gap for my back 6 (X or X+2)so that they take risk as a unit. I bring back my AMC with a specialized role and projecting forward my striker with a CF-A role and a higher mentality. I see 4231 as a specialized formation, thus requiring precise mentality set-up and some freedom in it. That is to say, the DLP-S, the AP-A and CF-A.
Credits
This article is written by
NakS
, who is part of the editors team for
Clear Cut Chance magazine
.
Follow him on Twitter:
@NakSFM