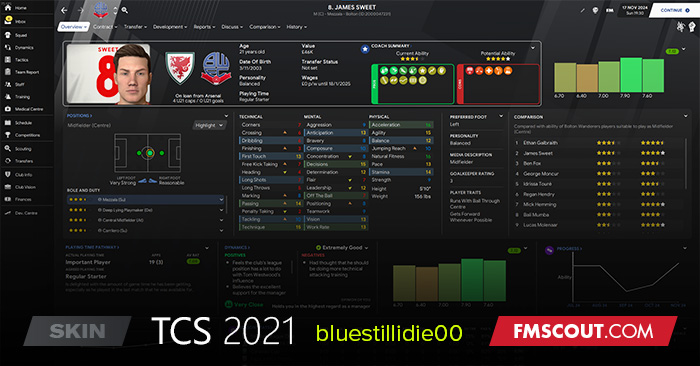 TCS returns once again, and it is better than ever.
A moving, dynamic background and the ever popular TCS header returns, this time it's modernized. Instead of being a full background, it is limited to just the outline to give the skin a clean finish.
TCS 2021 Skin Preview
TCS 2021 Skin Features
New Player Overview Panel

New Club Overview Panel

New Tactics panel

More "Dark Mode" consistency (Scouting, Inbox, Processing).

New comparison screens

New match ibh

Please note this skin is provided as is. It has nothing to do with Sports Interactive or SEGA and won't be supported by them.
I won't be providing any support for this skin apart from major issues, don't request features as they will not be considered.
USAGE OF PANELS OR GRAPHICS FROM TCS 2021 IS PROHIBITED WITHOUT WRITTEN CONSENT FROM ME.