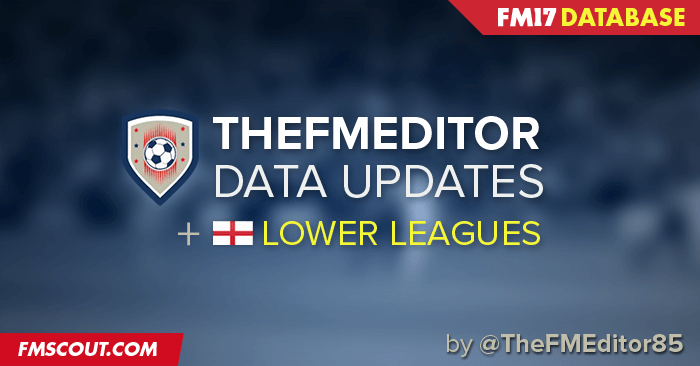 Brand new FM17 data update plus
England level 22
Summer update 2017-2018 PART 1.
Changes all around the world.
51/51 nations in Europe has 2017-2018 promotions and relegations. 3 in Asia. 1 in Africa 1 in South America. More will be changed when their season is done.
All new 2017-2018 Champions League and Europa League.
England has promotions and relegations down to level 10.
I HAVE ADDED SOME LEAGUES BACK IN LEVEL 11 AND 12.
MORE WILL FOLLOW.
League.
Managers
All other staff
Transfers
Free Transfers
Contracts
Retired players
Loans.
1850 Non leagues transfers/changes in the UK (More to follow)
13 Created non league players and staff in the UK (More to follow)
3 Created youth players (More to follow)
136 (NEW) Future players Home and world reputation (More to follow)59 Clubs budget changes (More to follow)
Thank you for the support. Any problems or anything i have missed please let me know.
–TheFMEditor
SEE YOU ALL FOR FM18.
How to add TheFMEditor Updates in FM17
Move the downloaded .fmf file to:
\Documents\Sports Interactive\Football Manager 2017\editor data\
Create folder "editor data" if it doesn't exist already.

Run Football Manager 2017 and start new save with this database enabled.


If you want to play in the English lower leagues, it's highly recommended to disable "Do not Add Key Staff" and enable "Add Players to Playable Teams" in advanced options. And also load all players from England using the Advanced... Database Size options.