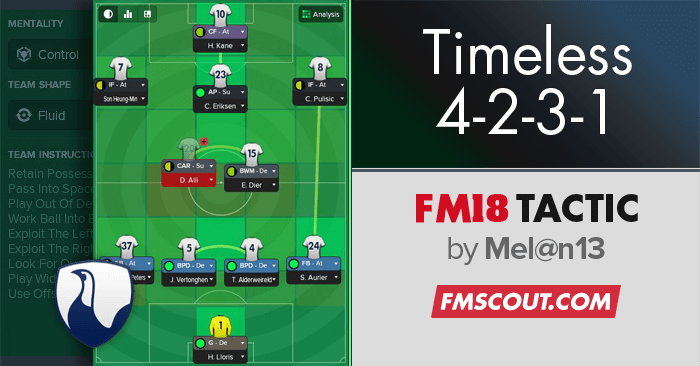 UPDATE - 11 June 2020
I uploaded the same tactic for FM 2020 where I become a Man Utd legend. Have fun!
FM20 tactic:
https://www.fmscout.com/a-timeless-fm20-tactic-become-a-club-legend.html
UPDATE - 29 DECEMBER 2017
Thank you all for the great feedback. I updated the download file to work on version 18.2.1. So far I played (on FM18 beta and 18.1 and above) with Tottenham, Arsenal, Sporting Lisbon, Maccabi Haifa and same outstanding results as i mentioned in my original post below. I also added a YouTube video with all the necessary details of this tactic. As always, feel free to provide any feedback and ping me with any questions. Here's the link to the YouTube videos:
https://www.youtube.com/channel/UCArwxHpRtvk6Xo0TssvVLtw
Don't forget to hit the Subscribe button!

Hey guys, first tactic for FM18.
Started my first BETA version career with Tottenham and doing pretty good for the pre-season and the first two official games. I re-built this tactic from the FM17 one I used to dominate the world

(i will upload the FM17 one within the next few days as this is literally my first time uploading something in here). BTW - I'm using the same team structure, instructions and anything else related to this tactic since Football Manager (or shall I say Championship Manager) season 97/98.
In FM17 I took Wycombe Wanderers from League 2 to the Premiere League and then completed my personal challenge with them getting into the quarter final of the Europa League. Then took Everton all the way to glory with winning Premiere League, Uefa Champions League etc.
So here it is; lineup -
In this tactic the most important players you will have in your squad are the wingers. They will be your goalscorers and together with an excellent Complete Forward you will have a goal machine tactic in hand. But remember (!) it will take you up to a month until you'll start seeing the real results of this tactic. With every team i played the beginning of the season was full of draws and small 1-0 wins but once all players are 100% familiar with this tactic you'll start hitting the net!
As this tactic is all about the wings the secondary most important players are your full backs. Note that you should set them to an 'Attack' role so they can overlap your inside forwards once they cross in to the box to score some goals. I was really amazed to see how the ball goes for the keeper to the BBM to your Advanced Playmaker who pass it to the side and the full back gets the ball into the far side of the box so my left inside forward blasts it into the net.
Team instructions
-
At your early days you don't want to make allot of changes but just play this tactic as is and let the guys get fully familiar with it. As I said, you might get some draws along the first few weeks but it will be worth it long term. Once the team got familiar with the tactic you might want to take a look back at the team instructions when you are at the 2/3 of the first season. If you keep scoring and winning as you should so no changes required, however, sometimes you'll need to change from 'Fluid & Control' to 'Flexible & Standard' at you away games as well as get rid of the 'Gain Possession' instruction. I promise I will upload the supplementary away tactic as my season progress.
In regards to Individual instructions, you'll see it once you load it in your FM18 save. It supports my description above.
Here's the early days for me and this tactic on FM18 -
Will update it as the save progress and I welcome any feedback.