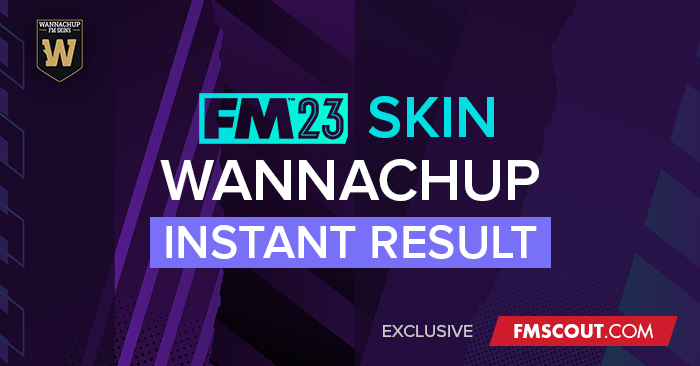 Default Football Manager 2023 skin with instant result button added on tactic screen.
This is ideal if you don't wish to play a match and get straight to the result.
This year I've also added the button during matches, so you can simulate the rest of a match.
How to install the Instant Result FM23 Skin


Download 'Wannachup-FM23-InstantResult.fmf' file.


Move the 'Wannachup-FM23-InstantResult.fmf' file to your skins folder.:
Documents\Sports Interactive\Football Manager 2023\skins\


Run Football Manager 2023 and go to Preferences > Interface.
You should see "Wannachup-FM23-InstantResult" as an option in the skin drop-down of the General options section.
Hit the Confirm button.


FM23 Instant Result Skin F.A.Q.
Q: The skin doesn't show up in the skin selection menu on Mac
A: Make sure you have installed the skin in the correct location. The install location for Mac has changed.
Read this
.
Q: I can't select a match plan
A: You need to create a match plan first before you can select one.
Q: No subs are being made during simulated matches
A: That's a bug with the game, not the skin. All of the instant result functions are already in the game, the skin is just making the button available.