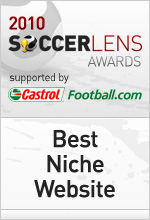 FMScout.com has been nominated for
Best Football Niche Site
in the 2010 Soccerlens Awards (SLA). The SLA nominations are decided by a combination of fan voting and a group of your industry peers including editors, professional players and journalists, so our nomination reflects both the industry respect and passionate fandom that our hard work this past year has deservedly earned.
Vote for FM Scout now!
Voting ends on midnight, Sunday 19 December 2010, UK time. Make sure to get your votes in by then, and tell your friends to vote too!