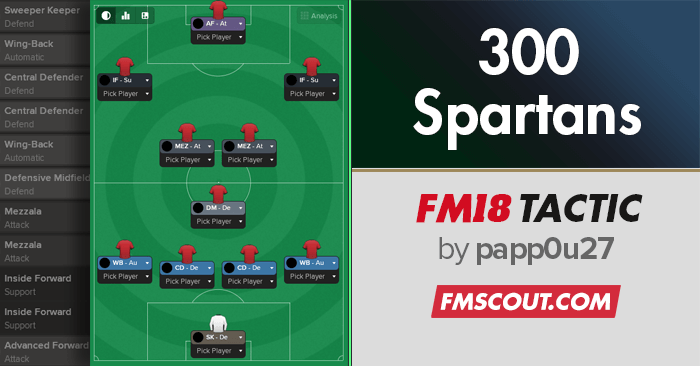 Unbelievable tactic for FM18. Best work yet. Inspired by my grandpa who loved football.
This tactic gets the best out of your side, and it overloads the opposition box with incoming midfielders. I have designed it to the best of my ability so that my wingers defend narrowly and block the passing lanes.
The Spartans fought the Trojans in a narrow path to their advantage; this wonderful tactic will get your team playing amazing football and uses a narrow length to its advantage.
Please follow below instructions to get the best out of this tactic
- Team Training. Balanced - Average throughout season AND preseason (avoids injuries during pre)
- Main Focus always stays on Attacking movement. Tactic is designed to be solid at the back regardless.
- Always stay on balanced, even against the elite sides. If losing and need a goal, play attacking, move tempo up one notch, move passing directness up two notches, defend at the highest line level, tick be more expressive, and also roam from positions.
Apart from that, this tactic is a plug and play and will get you amazing results and success.