O'Leary joins the club as newest head coach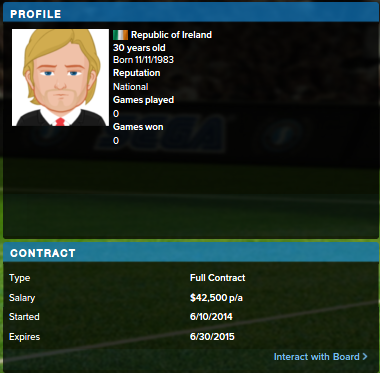 President Bernie O'Connell is proud to announce that 30 year old Kevin O'Leary has been hired to take the reins after the sudden resignation of Tommy Dunne a few weeks ago. O'Connell was quoted in saying,
" I feel like Kevin would be a great fit for the club and I know he is ready to come back into the sport."
O'Leary has been away from the sport for the past two year.
The 30 year old was born on 11 November 1983 in Ennis Co Clare. During his youth he would play for local club Ennis Town. After that he would join us for the next few year until moving to Shamrock Rovers where he spent the rest of his playing career. O'Leary joins us after spending the last year in France teaching English as a second language.
In a brief interview O'Leary had these things to say.
"I am looking forward to this season with Galway and I hope the supporters have our backs as we attempt to get promoted to the premiership."
The 30 year old will have some room in the transfer window this summer to add whoever is needed for the club to grow. In addition to his arrival Galway United has created a partnership with his youth side of Ennis Town.
"I look forward to working with Coach O'Leary. We have already meet and I feel his goals are very achievable this season."
- Captain Paul Sinnott.
Fans you have an opportunity this upcoming Friday night as we host our annual open house and meet and greet. Coach O'leary is looking forward to meeting you all. Admission is free and there will be food available for purchase as well as extended hours and %25 off all items at the team store for that night only.
The tribesmen start their inaugural
SSE AIRTRICITY LEAGUE of IRELAND
2014/15 campaign with four friendlies starting 21 June, below is the preseason schedule. Also between the friendlies and season is the first round of the new
PADDY POWER FAI CHALLENGE CUP
on 27 June against TBD. Finally the season kicks off on 9 August as we will be hosting Cabinteelyl at 800pm local time.