Great start so far hope you make good signings! I recommend running stat analysis of last season to pickup proven game-changing players! (look for key pases, pass completion ration, assists, key saves, ect..). Good luck!
Pre-season in the Netherlands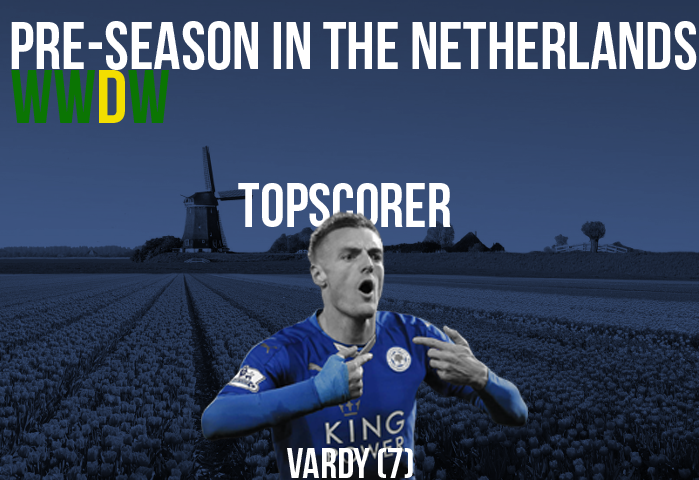 I'll write a long report about 1 match, the rest will be short
First match N.E.C 0- 4 Leicester City, Goffertstadion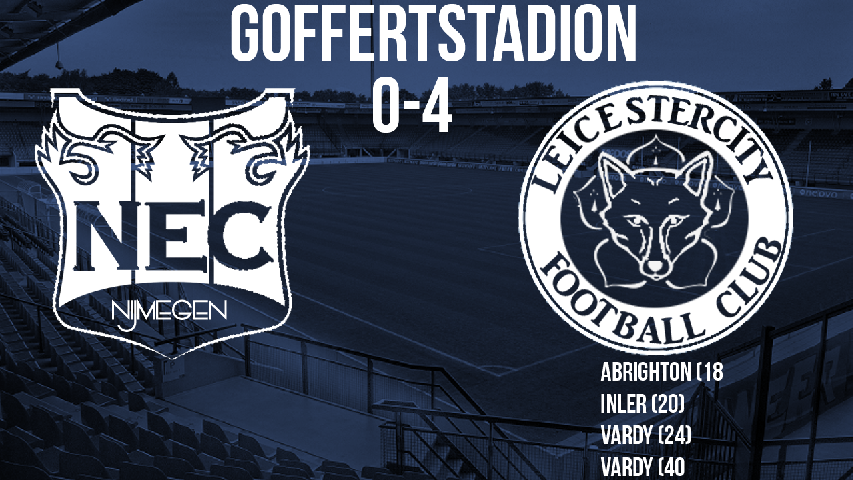 What a stunning match to begin with. An outstanding Inler, an amazing Abrighton and a world class Vardy. We began really strong with a lot of possession. Mahrez gave a stunning long pass towards Vardy and he shot it against the bar. The only decent player of N.E.C was Limbombe, he had a few good dribbles and created some danger but nothing more. In the 18th minute Abrighton walked through the weak defence of N.E.C, he shot the ball in the right corner and scored the first goal of the match. Almost immediately after the kick off we scored again. Foor gave a horrible pass towards Santos and Inler slammed the ball in the top left corner. Soon after the kick off Ritzmaier had a huge chance to score against us, unfortunately for him he shot the ball over the goal. in the 24th minute we got a penalty. Inler passed the ball towards Mahrez, Mahrez runned into the penalty area and Kane made a horrible tackle on the heel of Mahrez. Vardy took the penalty and scored. Suddenly Okazaki passed the ball to Vardy, Vardy destroyed Woudenberg with a world class run and walked toward the goalkeeper, unfortunately, Vardy did not score. In the 40th minute gave Inler a great pass to Okazaki, Okazaki passed it back to Mahrez, Mahrez dribbled through the defence and give a short pass to Vardy, Vardy volleys the ball perfectly and scored the 4th and last goal of the day
Second match FC Utrecht 0–2 Leicester City, Galgenwaard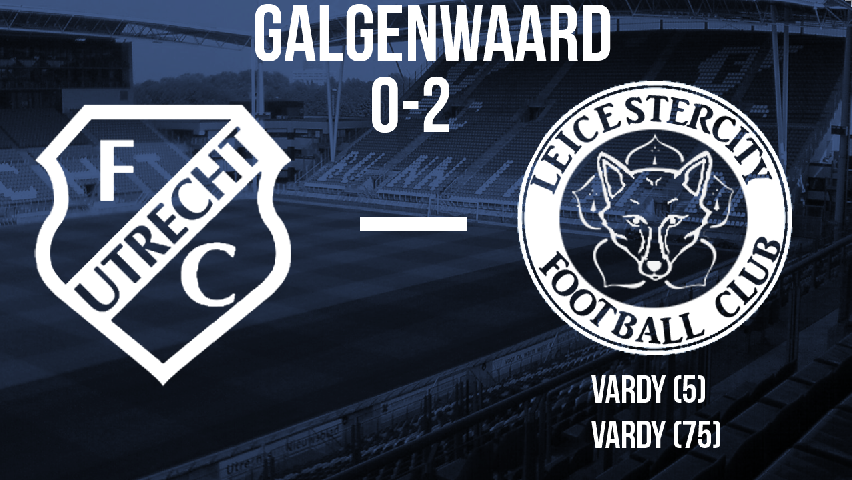 I think there's one word to describe this match, decent. Vardy was again world class, his first goal was a screamer in the right top corner, and his second was a simple tip in goal. FC Utrecht wasn't strong, only Haller played a good match for the Utrechters.
Third match VV Noorwijk 1-1 Leicester City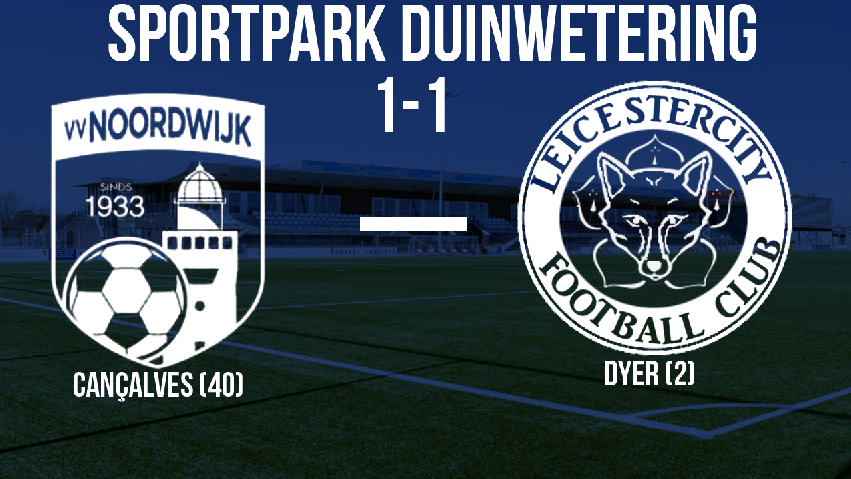 Well I have no idea what happened here. We drew against an amateur team with no status. I have nothing more to say about this match, hope this was an accident
Fourth match SC Cambuur 2-3 Leicester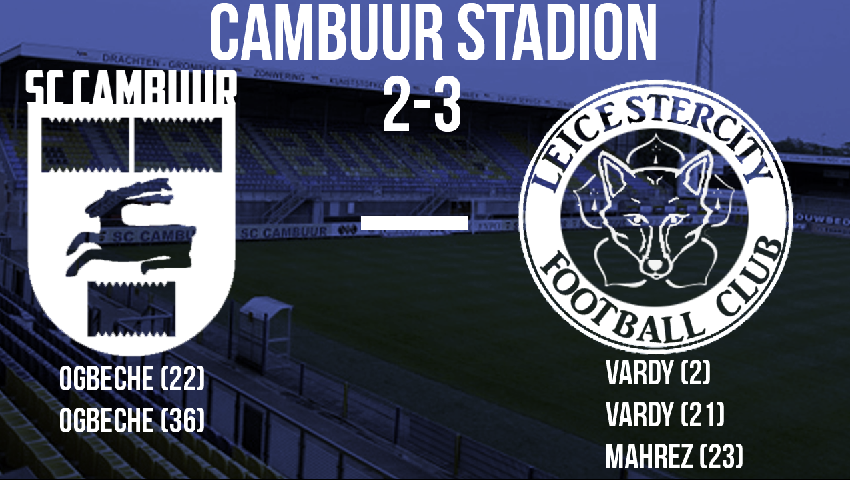 What a stunning match. SC Cambuur was the underdog but still surprised me with their amazing football. Ogbeche was just world class for them. And just like the previous matches, Vardy and Mahrez were my heroes. What a duo! Mahrez gave 2 assists on Vardy and Mahrez also scored one by himself. I hope they can continue this in the league because they're outstanding!

Managers thoughts
http://fogaanarag.com/wp-content/uploads/2013/12/images4.jpg
I could experiment with a few tactics and it worked out quite well. Vardy really impressed me, he cored 7 goals in 4 matches. Mahrez was outstanding, his passes were amazing. I hope my first match in the Premier League will be the same as againt N.E.C. Great to see my team playing well!
Some great results in there mate, glad to see Vardy is on fire for you like he his in real life!


BREAKING HAKIM ZIYECH SIGN 4 YEARS LONG CONTRACT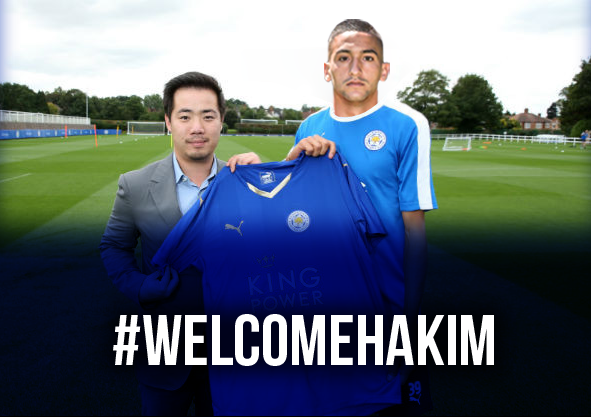 Leicester- The Dutch midfielder Hakim Ziyech arrived today in Leicester to sign his new stunning contract. The many-sided midfielder will earn 1.5 pounds per year at his new club. According to his new manager Frank de Boer Ziyech will be a first team player next season: "Ziyech is an amazing player and I can't tell you how happy I am with him. The fans don't really know him but I'm sure that the whole Premier League will know him soon"
http://www.onze11.nl/wp-content/uploads/2015/05/Hakim-Ziyech-e1435431210167.jpg
We spoke with Ziyech
Good day Hakim! How are you feeling?
I'm just so happy that I could sign here, it's very hard to leave my family and Holland, but I'm sure that I'll find my way
Was it a tough decision?
I don't really think so actually, I think Leicester is an awesome club to develop, and I want to win prizes with this team!
That's quite an ambition
I wouldn't know why we couldn't win prizes
Rumours are going that you've spoken with Atletico Madrid and PSG, is this true?
I'm not going to answer it
Why not?
Just accept it
Okay then, What are your great points in your opinion?
Well I have a good shot, my pace is decent and I'm known for my dribble
Do you expect a lot of goals then?
We'll see
Thanks for the interview Hakim
No problem mate
Leicester paid FC Twente 9.000.000 pounds for Ziyech. A lot of money as Twente have a lot of financial problems. The transfer is quite a suprise as Ziyech spoke with some world class clubs as PSG, Chelsea and Atletico Madrid
Here's a compilation of Ziyech's 2014-15 season
brilliant graphic works dude!
Keep It UP!!

I play Leicester City too mate

Vardy in first season month scored for me 6 goals in 4 matches. He's such a beast. Hakim is a very, very good transfer. Good luck

My scouts proposed me Ziyech in almost every save I played yet, let's see how good he actually is on Football Manager. That Mahrez - Vardy - Ziyech triangle could be outstanding! I really like your edits by the way, keep it up!
Great start mate, and all the best for the season!
You are reading "Leicester City - The Dutch Revolution".
↑