Välkommen till min historia:
Hey guys long time no see when it comes to writing. Well after a few months away and a few failed stories that I never continued due to things database wise. I am back and even better than before. I see that the story area is lacking many great stories and I am hoping I can start something reigniting the passion of writing here.
What to expect:
As you know every spring I always do these around the world stories. Well it is going to be the same as before but this time I will not be starting in Oceania but the Swedish Third Division aka Division 1 Norra. I will still look to go around the world and win trophies but I feel it would be nice starting from home and branching out from that.
There will be no rules other than no big time club management until I enter my 40s and have a Continental License. This rule is mostly for the big teams like Real Madrid, Barca, the Big English 5, PSG and so on. Another rule I want to incorporate is that I must stay at my first club for at least five seasons before moving on. That will not be an issue as I want to build this club into an Allsvenskan main stay.
Who will be the main protagonist?: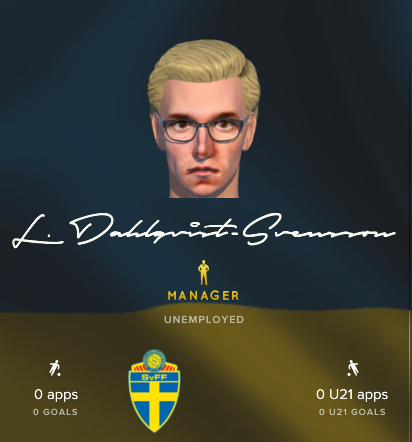 Say hello to Linus Dahlqvist-Svensson a 32 year old ex player from Gävle. After a pretty short career in football during his teens and early 20s he decides to go into coaching. You will learn why and what he did to start the journey into coaching. I feel Linus will be a very well liked character in my series of stories I have done. I am hoping that he becomes the next great manager in my story writing here at FM Scout.
One Final Note:
Before we begin I want to give a shout out to claassen who has basically made these crazy adventures possible. Come check out his database here............
FM17 Megapack 210 Updates by claassen (Final Pack)