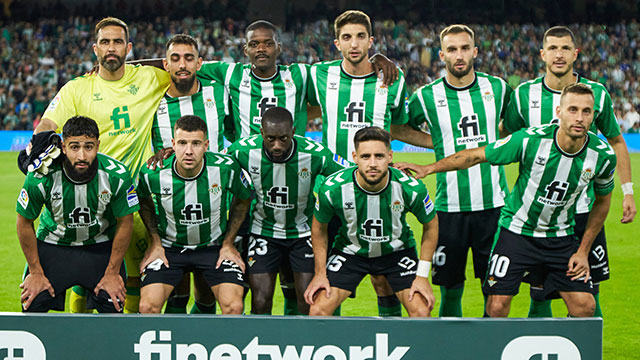 After many years i finally decide to come back to my favourite game, FM. At the start, of course, i needed to choose a team for me. As i said, after many years of not playing, i wanted to introduced myself with game changes on some easier way.
First idea was some Championship team, or any second divison teams from top 5 leagues. But, one day i watched a time laps of Benito Villamarin new tribune. So, i was thought why not to try bring them back in European elite. i decided, I am going to Andalucia and start, I hope, a beatiful journey.
I must say that my first season is over, so i will write an one short overwiev of my first season.
First day of my arrival, I was introduced with a staff and team. Media prediction was 9th place and transfer budget that was given was a little bit more than 3 mil. euros.
Immedeatly I scanned a team a decide to play with 4-2-3-1 (asymetric). I wanted to start with two classic central midfielders but finaly I put a William in front of defence.
As I said, the starting budget was not great, so i decide to make some changes in team. Kerher was option for a back up to Sidnei, but during the season he showed some great games so he became a partner to Bartra. Alfonso Pedraza was loaned from Villarreal, but due to great games, he was signed permanetly from Yellow submarine. Mazraoui was bought during the winter transfer brake, and with him I completed a position of right back. Emerson was on loan from Barcelona, but after long negotiations Barca didn't want to sell him so I turned myself to some other options.
Betis didn't participating European competitions in this seasons, so i was fully prepared on Primera. The board didn't put a high excpetations on me, but in my vision i wanted to reach at least 6th place and qualifiyng to Euro Cup group stages.
Start of season :
Season started really above my expectations, with 6 wins and 2 draws in my first 8 games. I must say that a really had an lucky with injuries, so all players was on disposal. I must say that before season i make decision to say goodbye to Joaquin and Guardado, but with Fekir and William they become a leaders in my team. After two month of some great games, i camed to difficult period and my team losed 4 matches in a row.
After team meeting, where players reacted really good, i won against Osasuna and everything was much easier.
I must noticed that my team was better and better, Guardado, William and Fekir done a great job in the midfield, while Joaquin and Borja I. scored their assists.
Despite good foorm, the end of season we didn't play on way I wanted and that is a only reason why I didn't reached a 4th place and Champions league group stages. My rival was a slightly better than me.
https://i.ibb.co/3Rph7wf/schedule.png
https://i.ibb.co/FnZP2tX/schedule.png
https://i.ibb.co/Jmp3r4v/schedule.png
The final table :
Borja Inglesias scored 15 times, Joaquin and Guardado 13, while Fekir put 11 assits.
During the season Mandi, Guardado and Joaquin renewed their contracts, for one more season.
So this is my first post ever on this site. This is just a short comment to my first season in Betis. Please fell free to comment and tell anything if you doesn't like , Now, I am going to short holidays on Maldives, because i need to recover myself for a new season.