RDF Tactics
RDFs
Antonio 'The Godfather' Conte
 352/343 recreation.
352:
343:
Compilation of some goals
https://youtu.be/lwMwz1XI7HU
Disclaimer: This is my own interpretation of the Antonio Conte tactic from the 2017/17 season. This will NOT bring guaranteed FM20 success as its made to replicate, correct players will be needed
I recommend using this in the
Italian
leagues as it has only been tested in Italy so far. I also recommend tweaking, tweak recommendations will be below
In 2016/17 Antonio Conte came to England to manage
Chelsea
, a very difficult job. Things didn't start well, he began with 4 at the back but it was the heavy loss away to
Arsenal
that made Conte switch back to his familiar style he used in Italy. This was new to the Premier League. Being able to win the league with a style nobody in England was used to, deserves credit and will we try to replicate that masterpiece in to FM20. We will also be replicating his very familiar
352
system that he trusts very much! and so do we

Conte created a system which makes
Chelsea
/
Juventus
/
Inter Milan
play pleasing football whilst being defensively strong.
I will be bring
two
variations.
2016/17 
Chelsea
2018/19
Inter Milan
So, here is how I lined up my 2019/20 
Inter Milan
 squad to try and replicate the Antonio Conte success.
The Tactic:
rdfs_conte_the_godfather_352_inter_182249.fmf
So, here is how I lined up my 2019/20 
Juventus
squad to try and replicate the Antonio Conte success.
The Tactic:
rdfs_conte_ball_206-17_juve_182249.fmf
Fluidity - Conte teams have all been
well drilled
. Here, we achieve this by having team fluidity on
Structured
Starts with the GK. he will be instructed to distribute to CBs, Conte liked his team to
play out from the back
, but not overplay the ball! The aim is here that the two CBs split wide, your Sweeper/Central Defender will look to collect the ball, he will then have a few options, he can dribble, play in to CBs or to the Wing Backs. Your GK must be
confident
in possession
Contes teams doesn't push to the
maximum
, he likes to be compact, invite pressure,
counter with space
.
352 System:
343 System:
The wing backs will look to
attack and defend
. When attacking, they will give some
width
in attack. Both wide defenders will make
forward runs often
and when defending both of them will drop back in defence making it now a 5 man defence
352 System:
343 System:
The central midfielders will
cover a lot of ground
. They need to be able to link the defence with attack. Both midfielders will almost act as box to box midfielders, whilst one aims to win possession more urgently.
The two wider forwards (or two forwards in 352 system) will look to
move around
to try cause the opposition headaches. the middle forward looks into spaces to be a
focal point.
In the 352 system, midfielders making forward runs will try to exploit the space.
TWEAKING!!
Tempo can be altered. Either slower to break down defence or quicker to get ball in final third quicker
Attacking width can be altered. To wider, this is to open more space but

be careful[/color

], your team maybe be exposed to counters
[color=#EF2929]
OIs
I only use OIs against the top teams. I pick there
best player
(example,
Neymar
at
P
S
G
or
Ronaldo/Dybala
at
Juventus
) and use "never tight mark"
INTER RESULTS!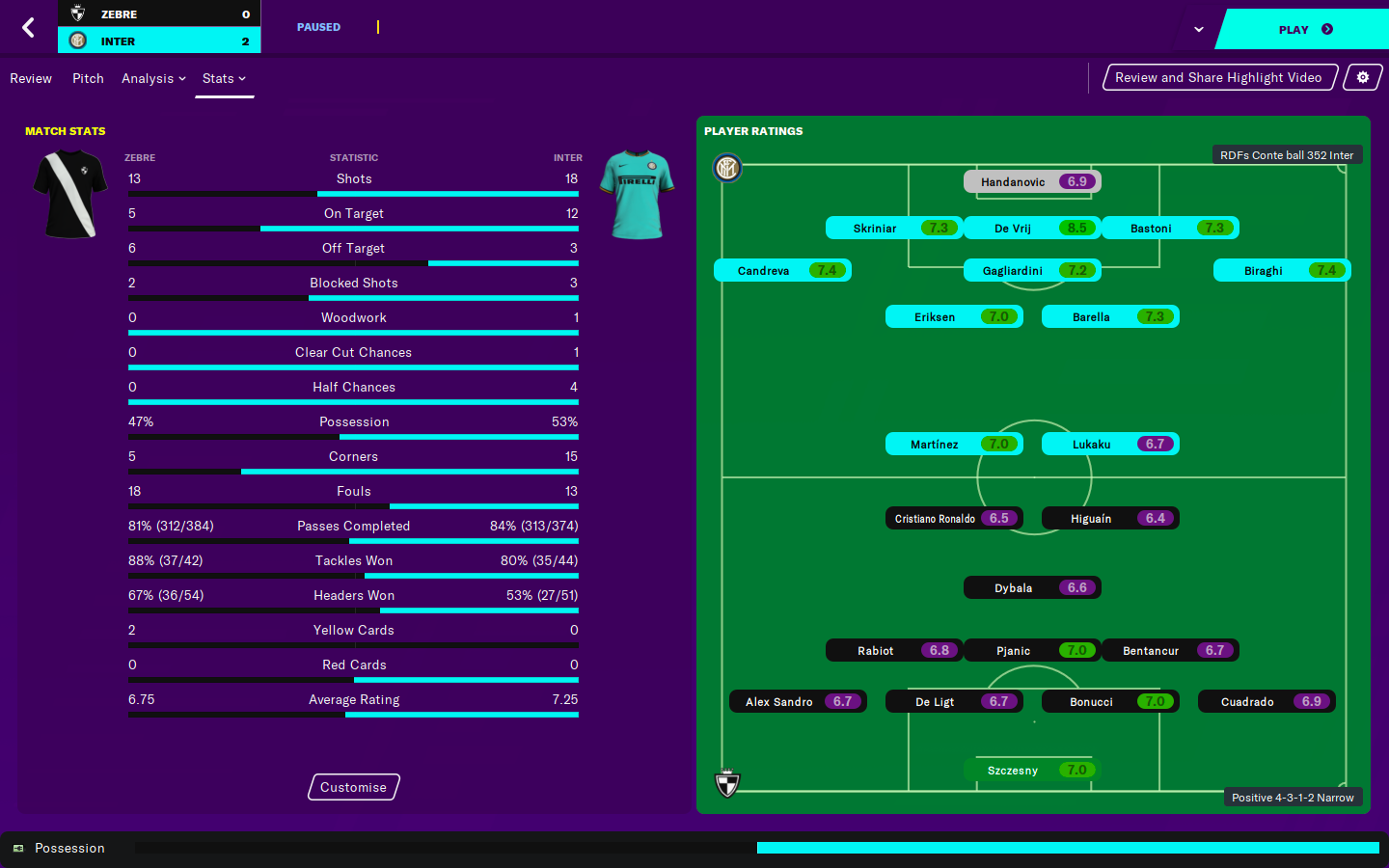 JUVENTUS RESULTS!
[/color]