Aston Villa F.C. Season 2027/28 - End of the season report - Finding our direction
I've already shown you a sneak peek of what was our position when we had 5 games left in our season. Let's see how we got there and how did the season finish.
Premier League
After the Q3 we were 2nd on the league 1 point behind Manchester City and this was the situation for much of the final games of the season too.
Our schedule was so congested that some slips were expected but we didn't play too well at all. We dropped points on three of our four first matches but at the same time City were struggling as well, so they didn't manage to gain any advantage over us. At one point we hade 3 games on 6 days and that's just insane.
At the end of the season we managed to win three out of our last four games which was enough to bring home the Premier League Trophy!
We clinched the trophy at home against WBA with a 6-0 win and
Andreas Schjelderup
scored two of the goals. Schjelderup was my first signing when I took the Aston Villa job over 5 years ago and his journey to this point is quite similar than my journey as a manager of a this club. There has been ups and downs and at points things haven't looked that pretty but eventually it all came together. I brought the PL trophy to Aston Villa and Schjelderup was one of the key players scoring 12 times and assisting further 6 goals in his 26 PL appearances while getting an avg rating of 7.38.

One down, two to go. Next up the FA Cup!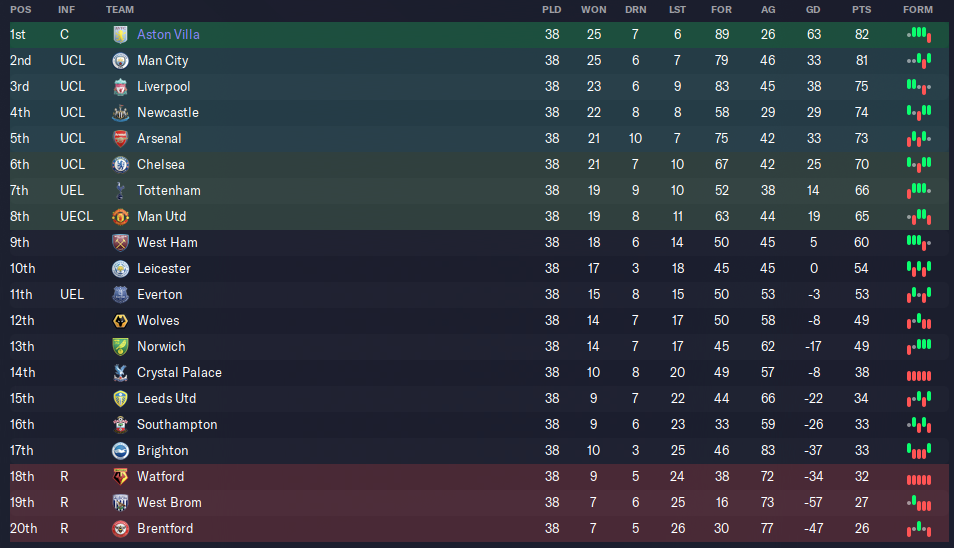 The FA Cup
We made a bit of a cup run at FA Cup. When the season starts, the FA Cup isn't the priority target but its a glorious trophy on its own right and winning multiple trophies in a season is a sign of a dominant team and that's what we want to be.
Let's skip over the few early rounds and focus more on the games leading to the Final. At quarter-final stage we were handed a tough draw as we had to face Liverpool. Liverpool were surprisingly toothless against us and didn't show much fight despite us beating them 5-2 in our previous meeting. We also managed to beat Newcastle in a relatively open game on semi-finals before it was time to face Arsenal on the final.
We had a poor start on the final as Martinelli escaped our defenders and scored the first goal early in the game. After that we took control of the game and
Endrick
scored on both sides of the half time and we were heading towards the FA Cup trophy until Schick scored such a cheap goal for Arsenal. They made a meaningless lob ball behind our defenders who were slow to react and we headed on OT which was rather eventless to say the least. It took crap ton of penalties but finally Romeo Lavia missed for Arsenal and our first 8 takers scored so we won the FA Cup!
Two down, one to go. Next up, the Chaaaaaaaampioooooooons League!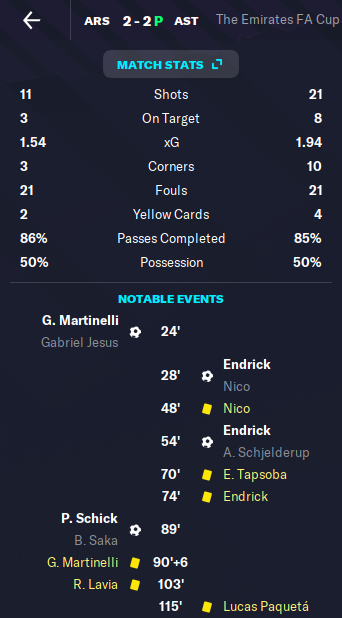 The Champions League
During our time with Aston Villa we have gained a reputation as a strong League Phase team but the quarter-finals has been the furthest stage we have progressed to. As you already know, this changed for this season.
I already talked about out heroic comeback against AS Roma. On quarter-finals we faced our PL title rivals Manchester City who we had beaten two times on the PL this season. We started the match-up well by beating City 2-1 at home but the away game was trickier. We were getting the better changes but City were leading 2-1 at the end of the game and we were heading on OT until Stockport's own Manchester City academy graduate
Mani Billingsley
scored a 2-2 equaliser on the 93rd minute taking us to the semi finals!
The semi-final were fully English as we were drawn against Liverpool meanwhile Arsenal faced Manchester Untied. The away game at Anfield ended 1-1 after relatively even game, although Liverpool were better side and perhaps should have won the game. I was confident before our home game and Billingsley was the hero once again by scoring twice before the half-time and putting the match-up on bed before the HT. We scored once more for good measure on second half and were headed to the final against Arsenal.
We had already beaten Arsenal on one final, so I knew the buggers would come hard on us. Be that as it may, only one of the teams had Mani Billingsley who scored on the 6th minute sending us to the 7th heaven. The game was relatively uneventful but I felt the game was on our control. We were leading 1-0 towards the end of the game and
Leon Bailey
scored a great volley on 91st minute bringing the UCL trophy back to Villa Park after 46 years! Bailey is one of our only few day one players, so it warms my heart to see him to score on a biggest night of our career.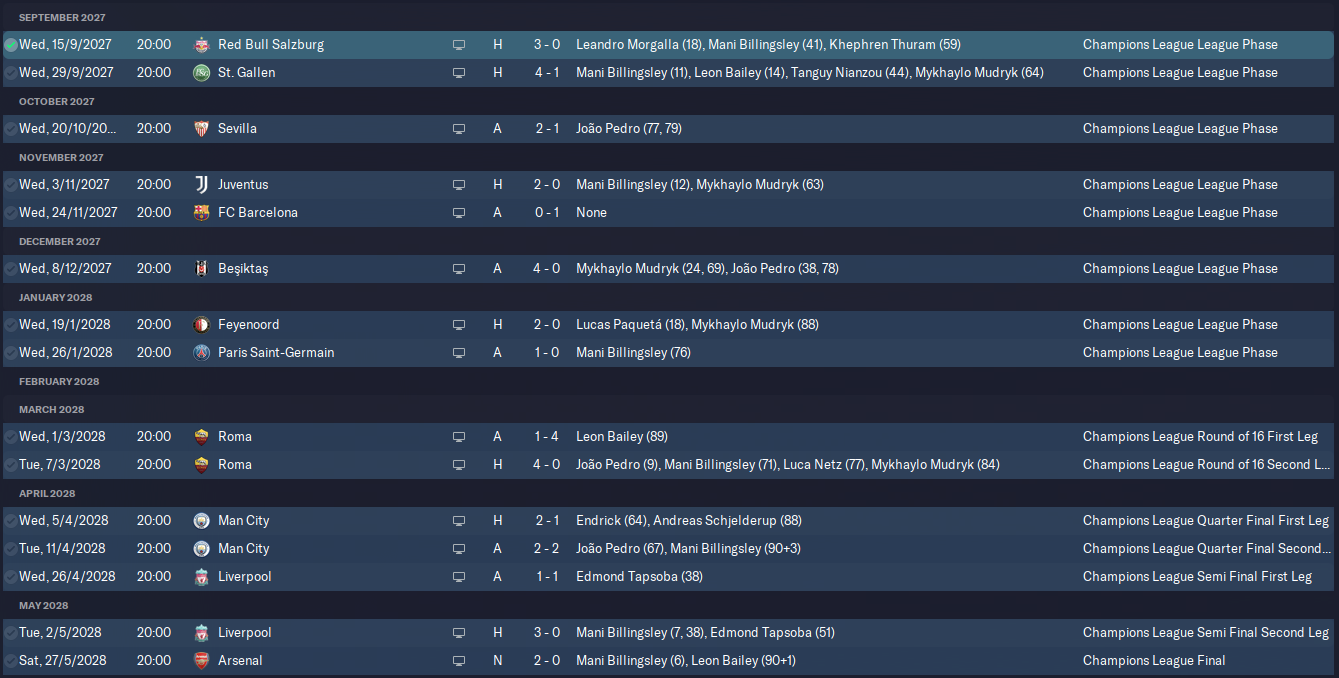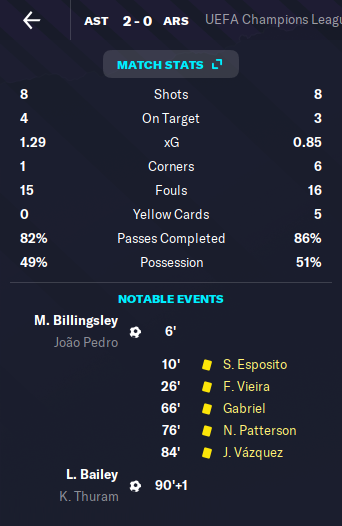 Oh, baby a triple!!! I don't think I would have like Farming Simulator after all.
I'll probably take a little break now and return with player stats and future plans afterwards. I have built an amazing young squad and I think we are only getting started!