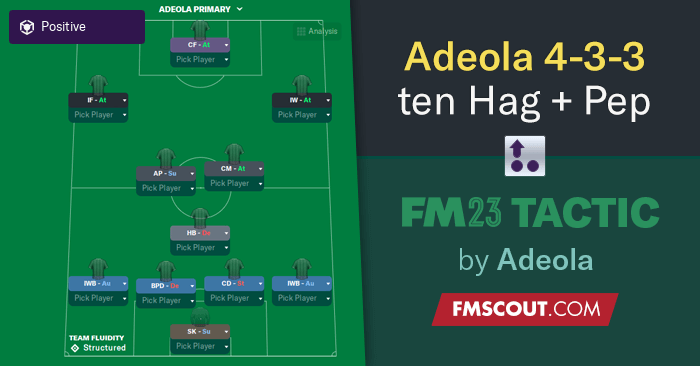 Hello guys!
I've been playing FM since FM 13, and I've always wanted to create a tactic that was all me, something I could use for Manchester United and be happy, win lose or draw (though I try to minimize the last two possibilities as much as possible).
I'm a massive United fan, and I almost always play as United.
I said almost!
Anyway, for FM 23, I've been keen on creating a formation that will allow me have numerical superiority during buildup, technical security so we don't lose the ball in our half, and also a lot of runs in behind opposition defences (no matter how low the opposition defensive block is). Naturally, I want to have the ball, but not just for the heck of it. I want to make things happen and devastate my opponents in every match.
This way, I can be guaranteed of a lot of goals and as many clean sheets as possible. With this in mind, I opted for a 4 3 3. I feel this formation give some the best chance to tweak things around and use roles, player instructions and player traits to make the formation as hard to defend as possible.
This is the typical shape in which your team will build up when using this formation
Please note: this formation WILL NOT WORK with bad players. It's not for underdogs. It's well suited for the Prem, for any of the top 6 teams and maybe even Newcastle, west ham and Leicester. Basically, if you don't have the right players to make this formation work, it won't.
The setup is made to ensure that there's always a free man in midfield making third man runs into the opponent's box. The inverted winger on the right stays as wide as possible to allow for this and to ensure maximum width in that area. I also allow 7 of my players to roam from position to make it hard for the ME to use a man marking system against me.
In buildup, the 433 turns into a 3 3 4, with my fullbacks inverting and my cm attack joining the front lines. The AP is the conductor, and so you must ensure he is a very good playmaker who will be difficult to press by the ME. If not, you will lose lots of balls in the middle and cause counterattacks against your team.
I have uploaded short clips of my tactic at work. The team in the clips is Dortmund, who used a narrow and fluid 3 man attack and a 5 man defence. Yet, I cut through them like knife through butter.
That's how good the tactic can be if you use the correct players.
I'm not a fan of running a lot of saves, so if you can test my tactic with other top and near-top teams in other leagues, I'd love to see the results.