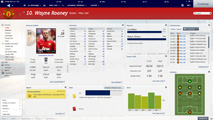 These days I gave up of almost everything and completely dedicated myself to making of the skin, much new and useful things I learned, there were few problems during the making of, which were unsolvable in the first moments of thought, but somehow I managed to work just all the way I imagined, there were a lot of reloading, but should be persistent, and in the end of all I am pleased, I enjoyed of doing this, and now finally I can enjoy in playing FM

Of course I decided to share it with everyone, and I hope that you will be satisfied, but if there are maybe some mistakes in the skin, report it here for regulating, or if you maybe don't like something and you want to change it, write freely, and if I will make of a second version, will be adopted and your requirements.
As you can see, many things changed in regard to the default light skin, changed the fonts, looks of buttons, backgrounds and size of logos, player and coach profiles look, added the option to select backgrounds and their transparency, home page has changed (for whatever you click, except SFM logo, SAF, and the stadium, takes you directly to certain pages), a lot of things has been given a new position and size, and I will not reveal everything now, you will discover it if you use this skin, enjoy.
Sorry if my english is so bad

Enjoy, and cheers !!!
Screenshots :
Click on the thumbnails for the full size.
Installation instructions:
Download
the skin and follow the steps below to get it into your game:
Extract
the file (using either
7-Zip for Windows
or
The Unarchiver for Mac
).
Copy
the folders you extracted into your skins folder this is by default (you may need to create the skins folder if it doesn't already exist):
Win Vista/7
: C:\Users\<username>\Documents\Sports Interactive\Football Manager 2012\skins
Win XP
: C:\Documents and Settings\<username>\My Documents\Sports Interactive\Football Manager 2012\skins
Mac OS X
: /Users/<username>/Documents/Sports Interactive/Football Manager 2012/skins
If you cannot find your user data folder
:
Applying the skin:
To
select the skin in game
you will need to:
load the game, and go into the preferences -> Display and Sound menu
untick 'Use Skin Cache' and tick 'Always Reload Skin On Confirm' then select confirm and
select the skin from the drop down menu, select confirm again and your new skin should now display. (Once the skin is loaded you can turn the skin cache back on and untick the Always Reload button.)
Please note the above skin is provided as is, it is nothing to do with Sports Interactive or SEGA and won't be supported by them.