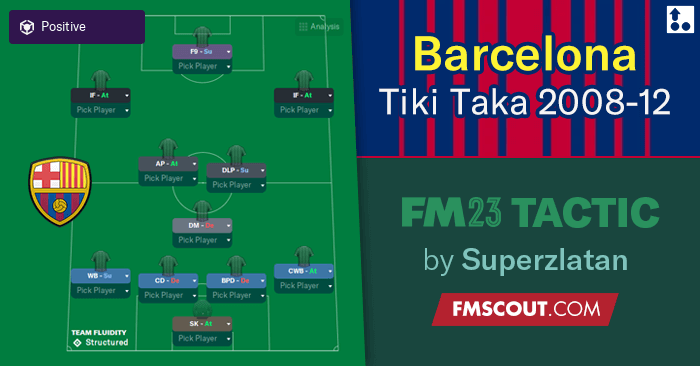 Welcome to my tactic, an attempt to emulate Guardiola's tikitaka in 2008-2012 with current Barcelona formation. Lewandowski scored more than 40 goals even playing as false 9.
Let's see now how I created my tactic.
First of all, position and duties of each player.
Goalkeeper : Sweeper Keeper (Attack)
Right Wing Backs: Complete Wing Back like Dani Alves (Attack)
Left Wing Back: Wing Back (Support), more defensive
Right Central Df: Ball Playing defender with defensive duties, for this position, you need a player with high values on passes, crosses, and technique (at least higher than 10/20).
Left Central Defender: Central defender (defense)
Low Midfielder: Defensive midfielder (defend)
Centre-right Midfielder: Deep-Lying Playmaker(support)
Centre-left Midfielder :Advanced Playmaker (attack)
Right and left forward: Inside forward (attack)
Central forward: False 9 (support)
Now, let see the other settings.
Mentality: attacking but you can set it to positive or balanced if you play against a stronger opponent
In possession: narrow widht, short passes, play out of defense, overlap right and left
Crosses: low because you want to use a false 9 as central striker. If you have a tall striker then you maybe want to use floated crosses. Anyway, Lewandowski scored a lot of goals even if I always used low crosses.
Passing: short or slightly shorter
tempo lower or slightly lower, I advice you to select also the Play for set pieces option in order to get more control of the match.
Of course, for a tikitaka tactic, select Dribble less is a must.
Be more disciplined
In Transition
When the opponent steals the ball, you want to counter-press in order to recover the ball as soon as possible, the core concept of tikitaka is that opponent team should never have the ball, as Guardiola said, if we always have the ball, opponent will not score.
When your team recovers the ball, you want to select the Hold shape option in order to start playing your style again, with slow passing. Counter option is more typical of Klopp's Gegenpressing tactic and I will not select it for my tactic.
As for the goalie options, you can choose to pass the ball to central defenders or to wingbacks, with short kicks or rolling it out.
Out of Possession
The defensive line and pressing line must be high or much higher, if you play against a stronger team you maybe want to select higher to avoid to leave too much space behind your defensive line, a space the opponent can take advantage of.
If you play against a lower league team or a weaker team, you can select much higher for both defensive line and pressing line to block the opponent inside their box from the match start.
Remember: always select the same option for both lines (ex. defensive line: high - pressing line: high OR defensive line: much higher - pressing line much higher) to avoid to leave much space between the two lines.
Use tighter marking and extreme urgent pressing or urgent if you see the players are too tired, reduce the pressing intensity.
As for tackling, I don't select any option because I want to avoid to get too many yellow or red cards but also I want to avoid to allow too much freedom for opponent players