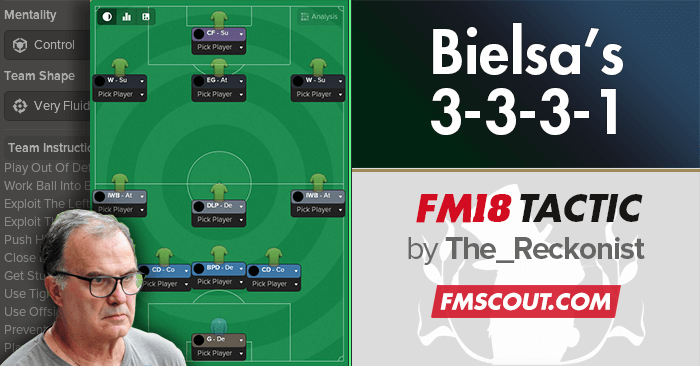 A faithful to a point recreation of Marcelo Bielsa's famous 3-3-3-1 System. Developed live on stream over hundreds of hours.
Welcome to what I expect to be my final tactical upload of FM18.
The development of the system is supported by my wonderful supporters on Patreon and Twitch. Your support means the world to me.
---
---
Leeds United appointed Marcelo Bielsa in June 2018 to a lot of surprise and excitement from football fans across England. Why? I will not go into too much detail here save to say that Marcelo Bielsa is a true footballing innovator and one of the most interesting characters in world football today.
There are many great resources on Bielsa as many people have written their own interpretation of his systems but for a great background, I would recommend you watch this video by the awesome Tifo Football.
My role was to follow these guidelines and create a system matching Bielsa's which works in FM18 and i would rather have spend time developing each one of the 3 or 4 tactics Marcelo is known to use, I devoted approximately 100 hours on my Twitch stream developing this one system! I dont think I could handle another 300 hours for the full set!
Bielsa in Summary
Prefers to play a 3-3-3-1 formation

Changes system depending on opponents formations. Making sure his team has 1 extra defender than the opponents have striker. (vs Two striker systems plays Three CB's.Vs One striker systems, plays two CB's)

High Pressing

Tight, Zonal Marking

Keep hold of possession

Conversely, wants fast 'Vertical' football

Builds from the Back

High Defensive Line

Use 'Engache'

Use Inverted Wingbacks

You can see why the Bielsa System is seen as the 'Holy Grail' of Football Manager Tactical Systems.
So, I had my work cut out for me. To combine all of these points into one working system up to my standards and producing the right results. We went through 8 variations on the Watford: Sir Alex Ferguson Challenge streams and tested all sorts of different theories and observed how they related to each other and what changed from the last system. Made more changes and observed what happened and why and did it fit into the above Bielsa Template.
So here is what we came up with that works best in Football Manager 2018
Mentality
Control
taken directly from the tactics screen: 'This mentality is best employed for matches in which you believe you are the stronger team but are wary of you opponent's counter-attacking threat.' We are going to have lots of the ball by design so a mentality of being patient and picking the times when we take risks is the idea here.
This actually came about very late in the tactical development as we never had a very strong team at Watford compared to the rest of the Premier League. If you do not have very high quality players compared to the opposition you are going to be playing, I recommend playing with a
Standard
mentality.
Team Shape
Very Fluid
. The one thing I was determined to have in the set up. Playing Very Fluid gives a freedom to your players to work within the overall mentality. It frees up Defenders to make more attacking choices and Attackers to make more Defensive choices. So you will see things like more One-Twos and Dribbles from players in Defensive roles and more Pressing and Marking from players with Attacking roles.
This feeds into Bielsa's reputation for encouraging his defenders to make almost suicidal One-Twos and dribbles just outside of their own area to keep the ball as much as possible. There are plenty of examples of this in all of Bielsa's teams and I encourage you to watch them on YouTube; they are hilarious.
Ultimately, it means the team plays better as a 'unit'. (if you have not figured out, this part of the game is extremely complicated, full of contradicting examples and difficult for me to condense into a single paragraph. It may form some future guide)
Team Instructions
We tried several combinations. In the end the best way to stick to the Bielsa code and be effective in Football Manager 2018 this way.
Play Out of Defence
. Ball retention is the priority. Almost to a detriment.
Work Ball into the Box
. With plenty of possession this makes sense.
Exploit Left and Right Flanks
. Stretching the play as much as possible making space for A passes through the middle and B Exciting attacking wing play.
Push Higher Up and Offside Trap
. A high line is required. If playing a High Line prevention of Through Ball attacks is mitigated with an Offside Trap. (Moving this back from a 'Much Higher' Defensive line reduced goals from Through Balls by around 60%)
Close Down More + Tight Marking
. Harassment is very important. Never letting the opponents take a breath. We did not max it out although that is possible to use should your match require it.
Get Stuck In
. Absolute Commitment needed! Click off if you get too many yellows but My players didn't have much of a discipline issue.
Prevent Short Goalkeeper Distribution
. With 4 players in and around the opponents defence this is a no-brainer. Feeds into the Harassment policy and forcing a Keeper into a long kick when you have 3 Center Backs is a great feeling.
Retain Possession is not clicked and Mixed passing is the choice
. Why? As stated earlier as well as possession football Bielsa likes, when the time is right, to play 'Vertical' football. Quickly getting the ball up the pitch. To find a balance of both of these contradictory concepts, we went with mixed and letting the team decide what to do with the ball. In retrospect it was a great choice.
No instructions of Overlap or Underlap
. With both Wingers and Inverted Wing Backs both options are available. Clicking on one of these would decrease the chances of one or the other being used by either Winger or IWB. Having no instructions here allows the players to choice from both freely.
Tempo
. Normal. I look at tempo like this. Possession = Slow. Direct = Fast. So in a system which wants both short Possession based play and fast 'Vertical' play options, meeting both in the middle and going to Normal makes sense.
Set Pieces
Free Kicks and Corners
. are all depended on the players you have so I cannot tell you what is best. However, I will point out that you have 3 Centre Backs on the pitch so perhaps take advantage of that.
Throw ins
. I would set up as Quick to keep pressure on the opponents. However, I had some success with a Long Throw into the box with all 3 Centre Backs up in the box. Again, this is up to your players.
Player Roles
Goalkeeper/Sweeper Keeper
(Use Either depending on player)
Prioritise Distribution attributes, Rushing Out, One on Ones and Ariel Reach as 90% of your goals will be conceded by a through ball or a cross due to the shape and high line.. Obviously try and negate the inevitable exploits the AI with use.
Ideal
: Jordan Pickford, Timo Horn, Ederson, Rui Patricio, Jorge Campos
Centre Back - Cover
.
Physical Stats get priority in particular Acceleration, Pace, Anticipation and Positioning.
Chosen to help the issue with opponent crosses leading to goals. These guys stay slightly deeper than default and provide cover for both the WB and each other with any through balls so need to be very mobile.
Ideal
: Kurt Zouma, Samuel Umtiti, Eric Bailly, Marcel Desailly
Ball Playing Defender: Defend
The conduite in which the defense can play keep ball with. Extra technical stats needed over most defenders but especially strong mental attributes needed. Long Ball and Dictates Tempo PPM will be useful. First Touch, Vision, Composure and Passing along with the best traditional defending stats possible.
Ideal
: Benjamin Pavard, Gerard Pique, Marquinhos, Rapheal Varane, Laurent Blanc
Deep Lying Playmaker Defend
Due to the system employed, this man will be outnumbered a very large amount of the time. You will need to Prioritise Defensive attributes over the ball playing skills although in games where you do not expect much of an attacking threat from an opponent you can go forgo the Defensive side and pick your best passer. I had great success with both a DLP, DM and a Regista here. Switch as you like. Positioning, Composure, Concentration Tackling and Decisions should be prioritised.
Ideal
: Mikel Merino, Sander Berge, Nemanja Matic, Thiago Maia, Oriol Romeu, Andrea Pirlo
Inverted Wing Back: Attack
Oh I love these guys. Providing defensive cover and attacking threat by a combination of High Physical Stats and great technicals. Do not be afraid to play people here who are not natural in this role and retain Defensive Midfielders here as they will share stats. I would really push you to prioritise spending getting the very best Wing Backs that are interested as again, your weakness will be defending crosses. Extra points for having opposite foot in each side although that will be difficult when the game starts. Expect both of these players to be near the top of Distance covered by players. They need to be Supremely fit. Natural Fitness, Stamina, Work Rate, Acceleration, Pace, Teamwork, Dribbling, Passing, Long Shots should be prioritised but it is very difficult to find players with all these stats. Get the physicals down first.
Ideal
: Kieran Tierney, David Alaba, Alex Sandro, Nelson Semedo, Jonny, Cafu
Winger: Support
These guys have one job. Run with or without the ball. Getting to the Byline and crossing or providing defensive cover is there whole game. Acceleration, Pace, Dribbling, Crossing, Stamina, Workrate and Flair. No need to burden these players with concepts of Passing. They should just be pure Wingers.
Ideal
: Ryan Sessegnon, Marcus Rashford, Kingsley Coman, Wilfred Zaha, Andrei Kanchelskis
Enganche/Advanced Playmaker/Shadow Striker
One exciting part of this tactic was developing a system with an Enganche. A role I don't use often and the signature of Bielsa's systems. This is basically and Advanced Playmaker that does not move from his position. So do not expect any defensive responsibilities (Adding the the outnumbering of the DM) The 'Hook' stays in his position for the most part and sprays passes to the people around him and occasionally popping up in the penalty area for crosses. Passing, Vision, Technique, Flair, First Touch, Composure and Off The Ball are the highest priorities. Physical stats are really not even a consideration meaning you can get really lazy or aging 'Luxury' player here.
Ideal
: Valentin Vada, Mesut Ozil, Eric Cantona, Roberto Baggio
Complete Forward/Deep Lying Forward/Target Man: Support
The key here is the support role. To create lines in the defence I prefer to have one of the Striker or AMC in a Support Duty the other with an Attack Duty. You can swap them at your leisure but you really should keep that component. His job is to assist the creation of chances and finish chances equally. I would argue that a Target Man is the purest to Bielsa's original style but I had success using all depending on the strength of the player I had. Off The Ball, Strength, Work Rate, Finishing, Heading, Composure and Balance being of real importance.
Ideal
: Alan Shearer, Ruud Van Nistelrooy, Fernando Llorente, Robert Lewandowski, Mark Hughes
Opposition Instructions
I dont give OI's on my premade tactics as the systems you play against change every week. It seems like madness to me to blanket OI's but appears to be the norm. I will give some tips here. Closedown Creative Players. Leave poor players to make there own mistakes and tackle people with Low Bravery, hard.
Player Instructions
For the sake of the upload I have removed all but the Goal Keepers Player Instructions. I base my PI's based on my players strengths so any pre-made instructions for me may be totally useless to you.
Tactical Tips
An early iteration of this had the WB as standard Attacking Wing Backs and the AML and AMR as Inside Forwards: Support. This little change can sometimes unblock teams playing a system which you are having trouble with.
I mentioned earlier that you should have 1 more CB than Striker if that is the case. Move the BPD into DM as a DLP and the DLP in the DM position into CM as any role you like. This keeps the defensive DM screen to help your CB's and provides an extra body in midfield.
VS a 4-2-3-1 (Which has 4 attacking players) Keep the 3-3-3-1 system.
What you will see?
Regaining of Possession high up the pitch.

Forcing Opponents to Shoot from Long Range

Exciting Wing Play resulting in Crosses

Creation of Clear Cut Chances

High Percentage of Possession

Goals Conceded from Corners and through balls.

And many goals like this. The perfect blend of patient build up and interplay from the back and pulling the trigger with a through ball and cross at the other end.
One of the most beautiful goals I have ever seen.
Thank you for reading this far down. I had a ball with this one and you can expect to see more of this type of thing going into FM19. See you there!