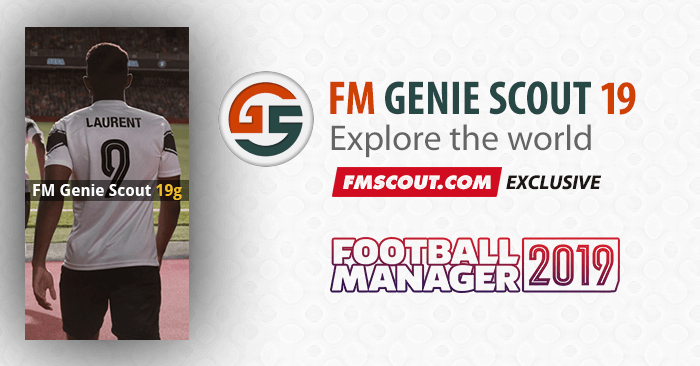 I'm delighted to announce that
Eugene is working on Genie Scout 19
, the
new version for Football Manager 2019
.
FM Genie Scout has always been the
world's favorite scout utility for Football Manager
since its very first version.
We pride ourselves on
exclusively releasing this legendary tool since 2009
. As always we try our best to deliver Genie Scout to the world every year because your support to this project is outstanding.
Our aim is to update Genie Scout "g" edition to be usable for the FM19 Beta. Then fix any bugs reported. And ultimately try to add a couple of new features for Eugene's direct supporters.
FM Genie Scout 19 Release Date
Public edition
While we can't give you a firm date for the release of the public version, we should be able to release it towards the end of November. It usually arrives approximately 4-5 weeks after the "g" edition.
Update 18.11:
The release day for
Genie Scout 19 public edition
is scheduled for
November 25th
!
"g" edition
The "g" edition, which is the one for people who donate, is available since 19 October (beta 1). Current version (beta 9) is compatible with the 19.1.5 version (for both FM19 and FMT19).
You can now donate for GS19 "g" edition.




Do not report bugs in the comments below!




The "g" edition is ad-free and has certain features compared to the public edition.
More specifically:
GS Stats

(new since 18g)

In-Game Scout

Role Ratings

Probability of Development

Progress Rate

Top Players list

Facepack/Kit support

Is there a way to test this "g" edition?
Yes! If you still have FM18 installed, you can try the "g" edition of Genie Scout 18 for free. It's not a trial, it's 100% unlocked forever.
How can I get Genie Scout 19 public edition asap?
The public edition of GS19 will be directly added to fmscout.com the moment it is ready.
But we can notify you via email when this happens, so you won't miss time at all.
So make sure to
sign up for our newsletter
today.
It's expected for release sometime at the end of November; no specific time has been set though.