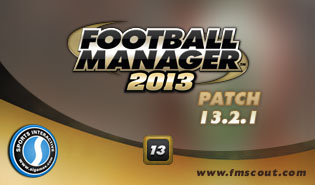 Sports Interactive just released yet another hot-fix update for Football Manager 2013 via Steam. This 13.2.1 patch will help fix some issues of the match engine.
To update you will need to close the game down and re-launch for it to update. If this does not work for you or you feel it has not updated you will need to restart Steam.
Released
: 24 December 2012
Once updated the version number will be 13.2.1, more specifically the full version numbers will be:
PC: 341620 Mac: 341502
For those playing the Russian, Korean, Asian or demo versions the version will be 13.2 with the version numbers below, for a short while longer:
PC: 341019 Mac: 341027
As with the previous updates:
It is save game compatible allowing you to continue your current save game.
There are no database changes, if you start a new game the database number will remain 13.0.0.
The changes in this update should help to fix the following issues:
Players dribbling through the middle of the pitch too easily, too often
High number of goals per game
Teams winning games by margins of 5+ goals far too often
You'll find complete changelog below.
Changelog
MATCH ENGINE
1325
Further refined engagement of ball player
Toned down speed players can run with ball a little
Slight toning down of run with ball probability
Fine-tuned kick and header accuracy a little further