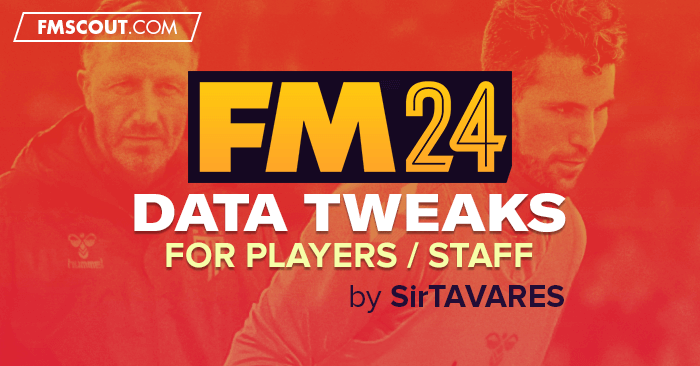 •
Public version
has
Monthly
releases with older Early Access.
•
Early Access version
has
Weekly
releases with high-priority requests by users.
Public Version -

v1.2
(released at 01st December 2023)
Early Access -

v1.8
(released at 09th December 2023)

•
(FM24 Data Tweaks) New Players-Staff: (OPTIONAL - SEPARATE FILE)
- Created new Players and Wonderkids from different countries;
- Created Staff and updated Club board members to match real life;
(All Players/Staff include cut-out photos and icons)
•
(FM24 Data Tweaks) Enhanced Database: (OPTIONAL - SEPARATE FILE)
Tweaked FM default database:
-
3D Models
- Hair, Skin Color to match reality. (eg: Reece James, Enzo Fernandez);
-
Height, Weight
- So they don't come random in some cases as SI did originally;
-
Languages
- Following player interviews;
-
Preferred foot
- Tweaks on some players that had it randomly or incorrect;
-
Player Achievements
- 1st time senior scoring for a club, 1st attendance, etc;
-
Nationalities and 2nd Nationalities
- Tweaks have been done specially into 2nd Nationalities where most French players have their African Nationality missing, same for some South American players that usually have italian nationality. This is hugely important as they become non-foreigners from leagues like Italy.
• (FM24 DataTweaks) Removed Injuries: (OPTIONAL - SEPARATE FILE)
So you can start a new save without Injured Players.
• (FM24 DataTweaks) -50% Injuries: (OPTIONAL - SEPARATE FILE)
It's personal preference, some users don't want to be harassed with injuries all the time. Less 50% of Injuries to happen.
• (FM24 DataTweaks) Removed Suspensions: (OPTIONAL - SEPARATE FILE)
So you can start a new save without Suspended Players.




What's this Early Access version?
An Early Access version is a funding model to everyone who supports the project (as this consumes a looot of hours) and also turns out to be a motivation to keep the project alive and regularly updated.
Special mention that the Early Access provides you updated files as soon as they are released.
1) How to get Early Access to Data Tweaks:
If you want to support me and get Early Access it's available via Patreon:

2) Grab the files in Patreon.
Just join the Patreon and grab the latest Early Access versions every time i upload it.
.
Regular Starter and Key Player tiers also have option to request/download custom files for Football Manager. They are custom scenarios (fantasy or not) to allow some extra fun into a save. All those files are available on Patreon.
-
Custom Scenario files (by Request):
Fantasy Scenarios like Wrexham injecting 100M€ for Squad Building, Iberian League with Portuguese and Spanish Teams, etc.
-
Legends Reborn
: The Legends Reborn is a new FM Data Tweaks segment that feature Legendary retired Players brought back as 16yo Players. [
Player List
]
FM Data Tweaks Support/Community:
------------------------------------------------------------------------------------

All files should be compatible:
Except "New Players" or "New Wonderkids" type of files.
In that case they will appear as duplicated or the Player Faces/Icons won't match as the ID will change.