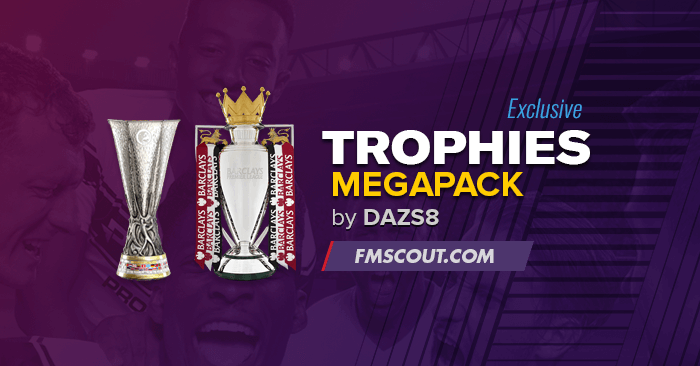 The continuation of my Trophies megapack for
Football Manager 2024
.
Installing this pack will add
Real Trophies
to all playable nations in the game.
The megapack contains
over 1230 Trophies
. Also includes Pre Season trophies for use with Zangelmi's Pre Season tournaments add ons.
If you want to add to the pack, feel free.
Look for the trophies which are missing and cut them out (if you can) or post the images in the comments.
The pack currently has the same files as the ones for FM21, FM22 and FM23.
Thanks everyone for downloading.
FM24 Trophies Preview
How to add Real Trophies in FM24
Download the pack and extract and extracts its contents.
You shouldn't need a special app for the extraction, but if you're having trouble with that, I recommend using 7-Zip for Windows or The Unarchiver for Mac.


Place the "trophies" folder here:
Documents\Sports Interactive\Football Manager 2024\graphics\


Create the folder "graphics" if it doesn't exist.



Open FM24 and go to Preferences screen. From the top right drop menu select "Interface".


From the bottom left drop down menu select "Clear Cache" and hit "Yes".


Tick the checkbox that says "Reload skin when confirming changes in Preferences", then press the "Confirm" button.
Credits
This pack was created by
DazS8
.
Huge thanks to the following for their contributions to the pack:
Hammer9
,
Patres10
,
Nuno Rebelo
,
Kremmen
,
Doc-Debril
,
Qvordrup
Master Frank
,
Noam1810
,
EmreGulsu
,
Wannachupbrew
,
Dvnrizuki98
.