Several
FREE games
are given away by Amazon
Prime Gaming
for the month of September 2023 and
Football Manager 2023
is one of them.
SEGA, Sports Interactive and Prime Gaming teamed up to offer PC players the full game of Football Manager 2023 - a 45 GBP / 60 EUR / 60 USD value - which
can be claimed until October 11th
, 2023.
So
Football Manager 2023 is available for free
at the moment for Prime Gaming subscribers who also have an Epic Games store account.
The promotion is for the full game and extends to all those on PC-only.
How to claim FM23 for free
In order to be able to claim the game, you need to link your Amazon Prime account to your Epic Games Store account.
Go to the official Prime Gaming Football Manager 2023 loot website.

Select 'Get game', and follow the instructions to link your Epic Games Store account.

Once done, you'll be directed to launch the Epic Games Launcher on your PC.

Do that, and go to your Library where Football Manager 2023 will be available for download.

How to get a Prime Gaming account for free
If you don't have a Prime Gaming account, you will need to
create an account
.
It normally costs around $15 per month, but you can
sign up for a free trial
that lasts for 7 days.
That is enough to
claim the game
, and then cancel the subscription
without having to pay
.
Once redeemed on Epic Games store, FM23 will be yours to keep forever. So it doesn't matter if you cancel the Prime Gaming subscription afterwards.
In a nutshell: Before the end of the year, link your Amazon Prime account to your Epic Games Store account to score Football Manager 2023 for free.
Recommended FM23 Content
If you do claim this deal, may I suggest a couple of essential stuff for you.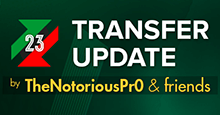 FM23 Transfers & Data Update
The best Football Manager 2023 transfer update all-around. Play FM23 like it's FM24.
FM23 Essential Addons & Articles
A selection of files to enhance your FM23 experience & articles to help you succeed.

FM23 Tactics Index
The easy way to find the best FM2023 tactics that fit your team. Filter all the tactics that matter to you in real-time.
Moreover, you can find a plethora of useful / insightful videos on
our YouTube channel
.
Enjoy!