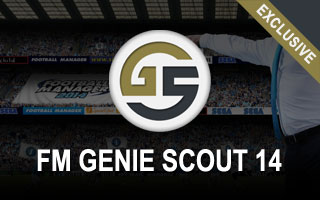 FM Genie Scout 14 public version is here!
There was a small delay, but GS14 is now available for all. The wait is finally over, and you can now fully enjoy your FM14.
Genie Scout 14 comes with an installer, and it should work for the latest Football Manager 2014 version (14.1.4)!
Visit our
Genie Scout 14 download
page!
Eugene had very limited time this year, especially after getting a newborn son recently. But he worked hard and with the help of the people who donated and reported bugs during the closed beta stage, the public version is ready and should be stable.
I'm hoping you will appreciate his effort and support the GS project.
If you want to donate, please use the
Donate to Eugene
page.
Have fun!!
P.S. Our newsletter followers got the download link before everyone else.
Maybe you wish to
sign up for our free newsletter
too.