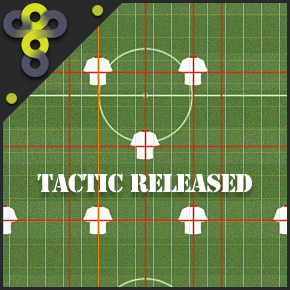 Before I begin, it really is necessary to read about my
grid system concept
in order to understand where the ideas surrounding the tactic have originated. I can't stress this enough, as the philosophy and slider positions are all based off a rigid system.
FM Grid System
The ideas surrounding the grid system came about when requiring a method that would enable me to obtain a basic layout of in game sliders, which could easily be converted into a Football Manager tactic. Something out of the ordinary, random and inventive. While there are many ideas within the grid system that have flaws, it was merely an experiment to see if something like it, could be achieved. It was my hope that I could create a system that would start the tactical building process for me, in combination with whatever philosophy it was that I wished to pursue. As that was the hope and end goal, I personally feel that the overall project has been a success. This success has been reflected in the amount of trophies won during the tactic trial testing – so many that I've needed to construct a new trophy cabinet.
The Formation
After the grid system was conceived and produced, my mind began to scrutinise the pros and cons of various formations that I could try to create within the grid system itself. I settled upon a system that would change shape in defence and attack, in as much as my strikers would track back to help out the midfield wide areas. With this in mind, the formation would appear to be a 4-1-2-3, but we only resemble this formation and shape when in possession of the ball.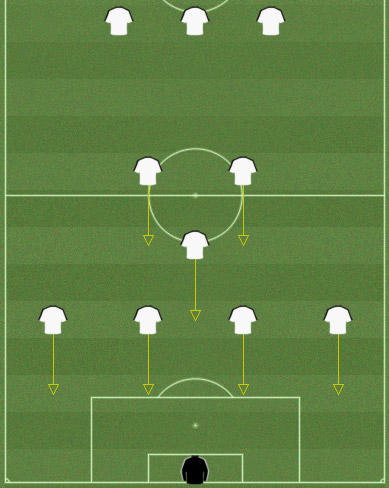 Formation when in possession.
When we lose possession, I want the wide strikers to track the opposing fullbacks as they advance up the field, so that my fullbacks aren't facing two opposition players running at them down either flank. I'm no chef, but that sounds like a recipe for disaster!
As the wide strikers move back into midfield, we create a formation that resembles a 4-1-4-1.
By pinning the strikers onto the opposition fullbacks, if gives the wide areas some extra support as well as stopping opposing teams from passing the ball out from the back. We negate opposition defences from spraying the ball horizontally along their defensive line, probing their way up the field and into out half, searching for a through ball that might destroy us. Hopefully you can see that by allowing the wide strikers to track opposing fullbacks, we give ourselves defensive stability while forcing the opposition to perhaps change their style of football.
Formation when we lose possession.
The 4-1-4-1 formation is a favourite defensive shape of mine and I'll always try to find a way of incorporating it within any tactic that I create. It offers a flat back four, a central anchor man, a sturdy four man midfield and an outlet upfront. If set up in a correct manner, it creates a very rigid and formidable defensive wall in front of your goalkeeper.
Applying The Grid
Firstly, can I just inform you that I have not tweaked the tactic in any way. What you see is what you get purely via the grid system. Certain aspects like the defensive line were positioned whether I wanted to 'stand off', or 'press' the opposition, but all individual player tactical sliders were positioned purely on what was calculated via the grid system.
With that in mind, I will include a brief run down of the left fullback position so you can see my logical, or random, way of thinking.
Fullback grid system example.
Focus your gaze upon the left fullback position, if you will.
The yellow horizontal line indicates the mentality given to the player – six. In the original tactic (stand off), I didn't want my defensive line venturing too far from their defensive zones, hence the low mentality as instructed via the grid.
The vertical light blue line illustrates creative freedom. The left fullback has been afforded five for this settings, so that he doesn't wander too far off the tactical plan, or roam from his defensive position whenever he desires. A setting of five, allows him to touch the nearest centre back, although quite frankly I don't want him holding hands with the centre back – I'd rather the fullback concentrate on playing. Now, there have been many complaints about the grids way of interpreting creative freedom, and as I've pointed out around the various FM community sites, I simply needed a way of applying creative freedom to the grid system, even if it meant applying it in a bizarre way. You have to remember that the initial system was constructed in one evening and as time has passed, the system has been refined further.
After applying the passing reticle translucently so that you can see the player underneath, hopefully it is clear that a passing setting of five is enough so that he can pass to the nearest centre back and towards the half way line. I want the fullback to play a short passing game, therefore the grid system has calculated the ideal passing length to be five notches. However, when combined with through balls, it gives the player enough freedom to do what he thinks best in various circumstances and situations.
With the settings calculated for one position, the same method and process was applied to the other positions.
Set Piece Routine
I've been privately contacted via email and other sources, numerous times, to include the corner 'exploit' within a new tactical release. It is for this reason why this particular corner routine has been included within the tactic. If you don't like it and feel it's cheating, then take it out and add your own. The only thing that will change is that your striker will probably have around twenty less goals per season (if you have a good striker to begin with).
Let me point out that I have added this 'exploit' rather reluctantly, and it will be the first and last time of doing so. I've added it purely out of request by the community. The corner routine that many people in the community add to their tactics, is a get out clause for appallingly constructed tactics. There are a few obvious names within the FM community who add this routine time and time again and seem to get amazing praise – have a think, we all know who they are. It's not big, it's not clever and yet they are worshipped as tactical gods. Don't worship false idols, people!
I personally just leave everything on default / mixed, crowd the opposition box with bodies and hope for the best. It reflects real life football. So yeah, this is the first and the last time for the corner routine. Ask again and you'll feel the wrath of the Welsh god Arawn.
Without further ado, let's crack on with the tactical releases!
FM Tactical Grid Tactic – Stand Off
You're free to have a choice of two tactics. The first of which is a deep, stand off, low pressing tactic, which was the original idea.
Within this tactic, your players will keep a deep defensive line and stand off opponents until a tackle is necessary – keeping their shape. The marking in defensive areas is set to 'man', so that they track strikers and attacking midfielders within the deep zones around the eighteen yard box.
It was my very first idea to develop a tactic that I could trial run with weaker club sides, hence the low closing down and rigid structure. This is also why marking is set to 'man', so that they utilise such attributes as strength, work rate, concentration and marking. These attributes are more common within the lower leagues, hence why the system might work better there. When you place players on zonal marking, it uses attributes such as positioning, anticipation, teamwork, concentration and decisions, which are harder to find within less skilled club sides.
With all that in mind, did I manage to achieve any success with a stand off approach? Click the screenshots below for larger resolutions and judge for yourself.
LA Galaxy
The first trial run was with the MLS team LA Galaxy. I managed to win the MLS by charging forth unbeaten throughout the entire season, conceding only eighteen goals.
LA Galaxy final league position.
We also managed to clinch the domestic cup, therefore ending the regular season with the double.
LA Galaxy clinch the double.
Landon Donovan ended the season with 44 goals in 43 appearances.
Landon Donovan's final statistics.
Robbie Keane was in fantastic goalscoring form, netting 64 goals in 31 games.
Robbie Keane's final statistics.
River Plate
Argentina was my next destination and to River Plate, who have recently fallen on hard times, relegated to the second tier. Hopefully my tactic would enable us to clinch promotion. We achieved promotion, but also bagged ourselves the Copa Argentina which was fantastic. Another double during the tactic trial run.
River Plate final league position.
As you can see, we finished with over 100 goals scored and 100 points. The three league losses were a disappointment, but we constructed another dominant defence, conceding only seventeen goals.
Copa Argentina victory.
With the double clinched and two more trophies added to the tactic test trophy cabinet, let's move onto the player statistics.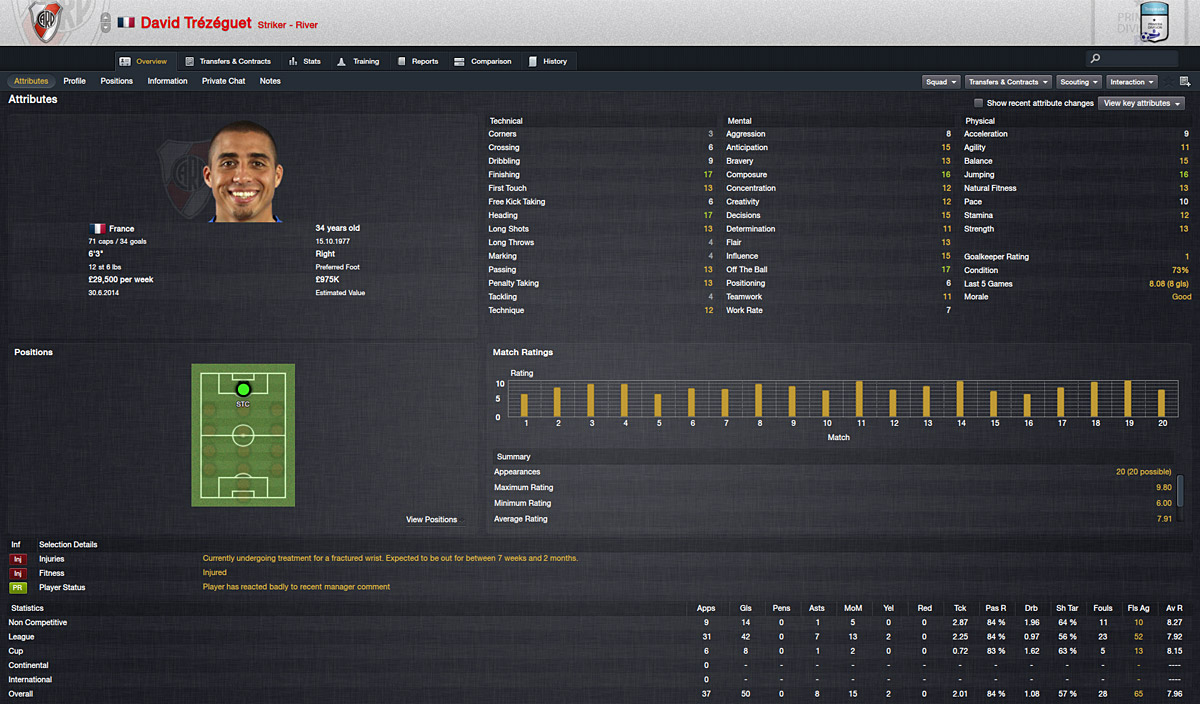 David Trezeguet final statistics.
David Trezeguet managed to achieve a goal tally of 50 in 37 matches. I won't bother adding the wider strikers statistics this time (to save space), but I will inform you that Fernando Cavenaghi scored 25 goals in 31 matches and Alejandro Dominquez scored 17 in 24 matches.
Swansea City
The greatest test for my stand off tactic.
How would my grid system stand off tactic fare when up against Premier League opponents week in week out? Well suffice to say, we did very well, winning the League Cup and qualifying for the Champions League by finishing third on goal difference – joint second. Absolutely delighted with European qualification and some silverware in the process.
After 26 games played we were top of the Premier League by a solitary point, but slipped away as Manchester City were too powerful. We inflicted one of their three defeats throughout the season however, so that was extremely pleasing.
Swansea final league position.
Here is the screenshot which documents the League Cup win.
Swansea win the League Cup.
Marco Ruben was my only signing at Swansea, as I needed a central poacher that could slot away chances. He managed to amass as many goals as he played matches – 43 goals in 43 games.
Marco Ruben final statistics.
Other stand out players were the wide strikers, Sinclair and Dyer, with 41 goals between them.
FM Tactical Grid Tactic – Press
Having created a successful 'stand off' tactic, I tried it out with Barcelona, to see how it performed within a giant of world football. Even though I beat Real Madrid 7 – 0, in many of the matches we stood off far too much and the opposition were basically playing the game on a level playing field. We needed more fight to impose ourselves on the opposition, and so, the pressing variant was formed.
It is my philosophy that larger clubs need to press and instil fear into opponents. You have the better players and better players do better things when they have the ball. I needed to tweak the grid tactic into a pressing alternative. Therefore, if you require that your team press the opposition, then this tactic should serve you well.
Zonal marking has also been introduced here throughout every defensive player. Teams who usually press the opposition are, as already highlighted, some of the better teams, with better players. Therefore they can get away with, and play, the zonal marking system.
I have only tested the tactic over two days with FC Porto, but anyone who has been following me via Twitter will know that I have achieved some amazing success. I must stress though that this tactic has only had a trial run with FC Porto, so it probably needs further testing. Having said all that though, I managed to achieve the quadruple, beating Barcelona twice in the process.
FC Porto
Here is the league table. We finished undefeated with a great amount of goals scored. If I have one disappointment, it was that we finished the season on double figures conceded. With only a handful of matches remaining we went from single to double figures. I can only blame this on fatigue as a few players were in need of a rest.
FC Porto final league position.
I finished the entire season unbeaten with FC Porto, within every competition entered – if you ignore being eliminated via a penalty shoot out in the Taca de Portugal 6th Rnd. I won't post my entire seasonal fixtures here as proof, as the image when stitched together will be very large. If anyone wants proof however, feel free to ask.
So, going undefeated throughout the entire season only meant one thing. We won the quadruple.
FC Porto clinch the quadruple.
FC Porto managed to win the Portuguese Premier League, Portuguese Cup, European Champions League and European Super Cup. The two European trophies were clinched after beating Barcelona, twice.
Here is the European Super Cup victory over Barcelona.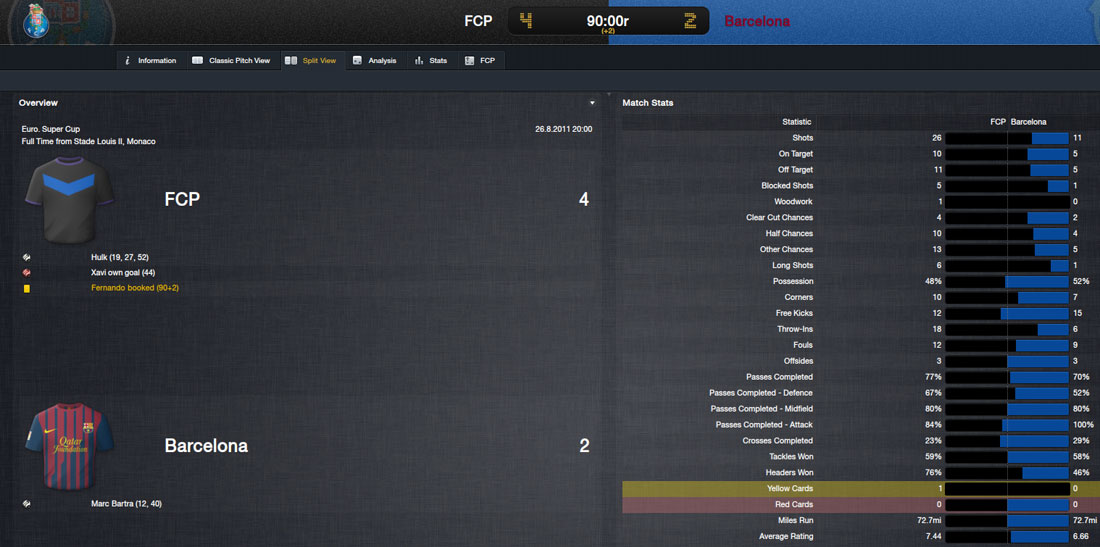 Beating Barcelona once.
And here we have the Champions League Final screenshot.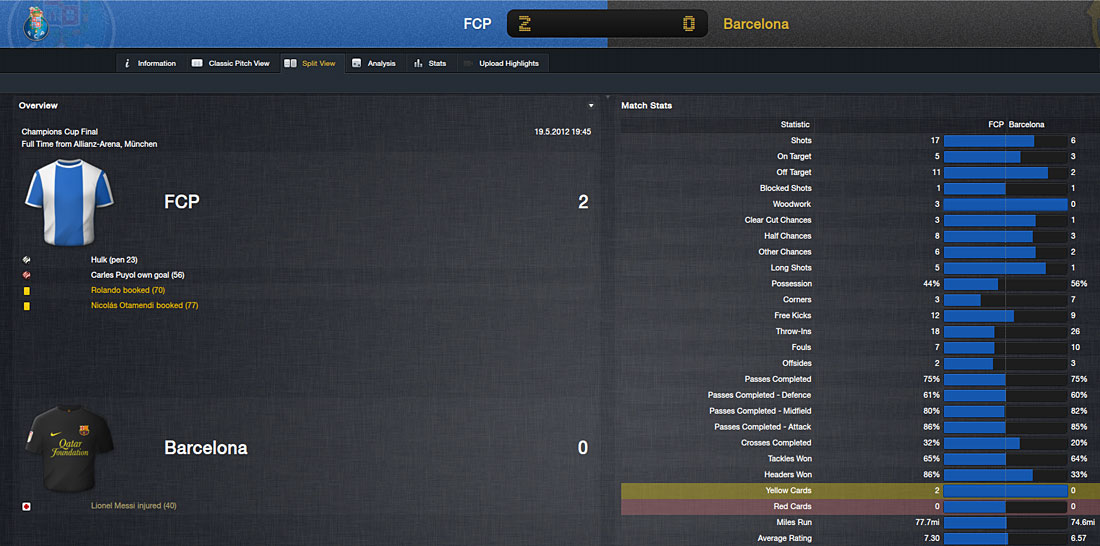 Beating Barcelona twice.
Hulk
This man needs his own section because he was absolutely phenomenal. What he managed to achieve is legendary, regardless of the amount of goals scored. I've witnessed him dribble past four players only to score. I've seen him score an overhead kick in the box after a pin point cross. I've gazed upon a mazy run from the half way line, past three players, only to cross to the back post for Danny Welbeck (on loan) to score. The guy is simply amazing.
To top it all off, he scored a whopping 123 goals in 54 matches. Yes you read it correctly…123 goals.
Hulk's final statistics.
BUY HIM AT ALL COSTS.
Tactical Help
Well done for getting this far! I'll summarise player positions here and what you might want to tweak.
1)
Your central striker is your main source of goals
. He is the focal point during the corner exploit (grrr!) and he is always available for a through ball played through the centre, either off the wider strikers, or the central midfielders.
2)
The man marking throughout the 'stand off' version can be tweaked I'm sure. If you are managing at a higher level and have faith in your players holding their zones, then feel free to change it to zonal.
3)
Your strikers in general all need to be quick to feed off any through balls. Dribbling, agility and balance etc are all welcome here. You know the drill, quick, dribbling flair players will thrive here as they break the defensive line time and time again.
4)
Opposition instructions should be automatically embedded within each tactic, meaning that you shouldn't really need to do them yourself. Please check that your wide strikers are specifically man marking the opposing fullbacks and that the opposition wingers for each team are shown onto their 'weaker foot'. Like I say, this should already be included within the tactic, but please make sure.
If facing a team who play three central defenders at the back, your wide strikers will specifically man mark the outer centre backs. This is not ideal, therefore set your wide strikers to man mark, tight marking 'no'. If the opposition team change to a back four, then specifically man mark the fullbacks as usual.
As for the opposition instructions themselves, I always made sure that the wingers were shown onto their weaker foot. Deep wingers, common in say, a 4-4-2, or advanced wingers / inside forwards. Any attacking wide player should be shown onto weaker foot. This is set within the tactic, but opposition teams change formation during a match.
5)
You're never going to win each and every game based solely on a tactic. Things sometimes go wrong – own goals, players 'switching off'. This is to do with the in-game player attributes, and not 100% the tactic – attributes like concentration and decisions etc. Player management and team talks are a big feature in Football Manager 2012, so try and make sure your team go into each and every game on high morale. You will create chances, but you need your team to believe they can slot in the goals.
6)
Make sure to plug in the tactic during pre-season and let the team become fluid in all areas. During most of my trials I kept match preparation on 'very high – teamwork' to quickly progress through the season. It did me no harm at all. During the Swansea save however, after the tactic became fluid, I switched to 'defensive positioning'. Experiment with these settings.
7)
I've never moved the players into different positions. If I had world class wingers, I simply retrained them to be strikers and stuck with them (James Rodriguez at FC Porto, for example). They operate down either flank anyway, much like wingers. If you move players around, I have no idea how the tactic will perform, so do this at your own risk.
Tactical variants included
As you've already seen, there are two tactical variants. One is the stand off version, the original, and the other is a pressing alternative, trialled at FC Porto to great success. Try them both and see which one suits you best.
Remember, the central striker is your main source of goals
.
I hope you can achieve the same, or
greater
success.
About the Author

---

TACTIKZZ runs the Football Manager Tactical Newspaper blog, where he discusses various tactics and theories spanning much of football's illustrious history. Follow him on Twitter.