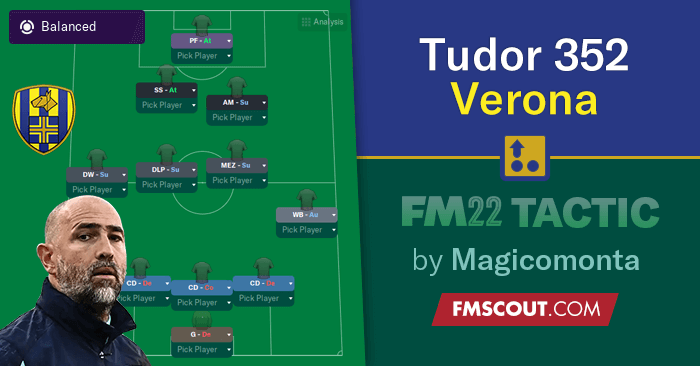 Good day guys,
Today magicomonta presents the tactical emulation of Tudor at Hellas Verona.
3421 BASIC PLAYING SYSTEM
GAME SYSTEM Non-possession phase: 4-3-2 / 1 or 3-4-2 / ​​1 or 3-4-1-2
GAME SYSTEM possession phase 31312 or 31321 or 3133
POSSESSION PHASE
During the possession phase the central defenders take care of the preventive marking of the opposing attackers, practically always to man, because they are not very fast.
Among the three defenders, Gunter remains the lowest in defense in the event of an opponent's restart on a mis-setting.
One of the two central midfielders, more often Ilic, lowers himself to set the maneuver while the other remains higher together with the outside midfielders.
Attacking midfielder Barak moves between the line of midfielders and forwards across the width of the pitch in order to be ready both to receive the ball from the midfielders and to attack the deep spaces between the opposing defenders.
Caprari aligns himself with the tip Simeone.
STAGE OF NOT POSSESSION
Verona defends itself with two staggered lines of defense because they tend to mark all the opposing players to attack them immediately and regain possession of the ball.
In the front row there are the three central defenders with, in addition, one of the outside midfielders (most of the time it is Faraoni who drops because he has more defensive characteristics than Lazovic).
If the line of defense is three, Faraoni remains higher on the line of the midfielders.
The second line is made up of the two central midfielders and one or two outside midfielders.
SEASON RESULTS
, AS ALWAYS, WITHOUT TRANSFERS, WITHOUT TACTICAL CHANGES, DURING OR BEFORE THE MATCHES AND WITHOUT SPECIAL TRAINING
8th IN SERIE A WITH 69 POINTS, 65 GOALS (5 BEST ATTACK) AND 52 SUBMITTED
QUARTER OF THE ITALIAN CUP LOST IN PENALTIES WITH NAPOLI AFTER ELIMINATING FIORENTINA AND JUVENTUS
SIMEONE 26 GOALS (2 IN THE SCORES RANKING)
BARAK AND CAPRARI 14 GOALS AND 7/8 ASSIST RESPECTIVELY
ALL THE REST YOU SEE IN THE VIDEO