My attempt to replicate Jorge Jesus' Flamengo tactic.
A high pressing fluid attacking tactic with 2 wingers that mostly cut inside to help the central and defensive-midfielder (that move very freely on the pitch) create chances.
The full-backs participate on the attack and the team surrounds the area with players, trying to find a breach in defense and making life hard for the opposition to pass the ball on the back.
If your players aren't marking aggressively enough you can activate the "Get Stuck In" instruction.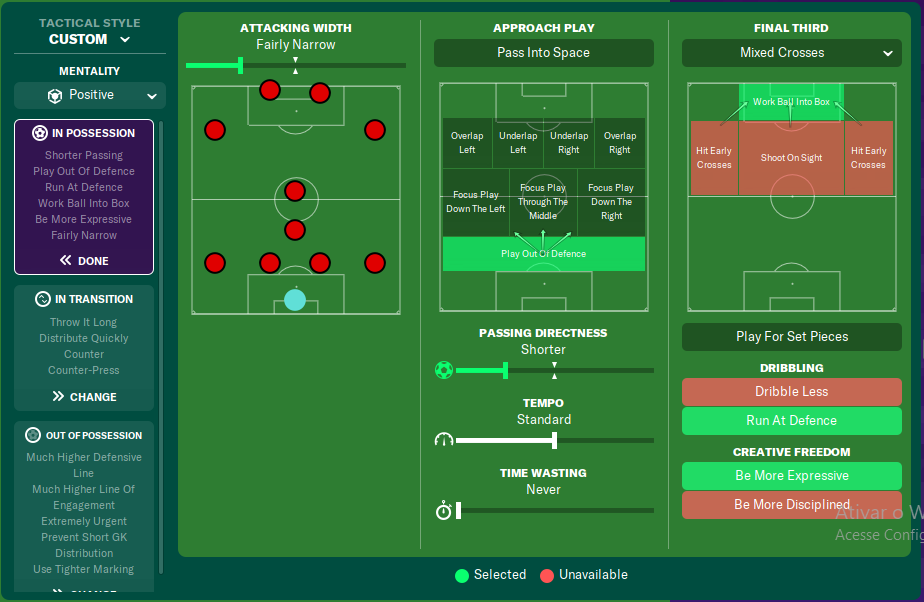 Portuguese
:
Descrição em português: Minha tentativa de fazer a tática do Jorge Jesus no Flamengo. Uma tática fluida de pressão no ataque, com 2 meias abertos que na maioria do tempo cortam pro meio pra ajudar o meia-central e o volante (que se movem muito livremente no campo) a criarem jogadas. Os laterais participam do ataque, e o time forma um cerco na área adversária e circula a bola rapidamente, e com muitas transições de posição, em volta dela tentando achar uma brecha pra fazer infiltrações. Essa movimentação dificulta muito a saída de bola do time adversário, que muito provavelmente vai ter menos posse de bola que o seu (se os jogadores não tiverem marcando agressivamente o suficiente ativa a tática "Get Stuck In").