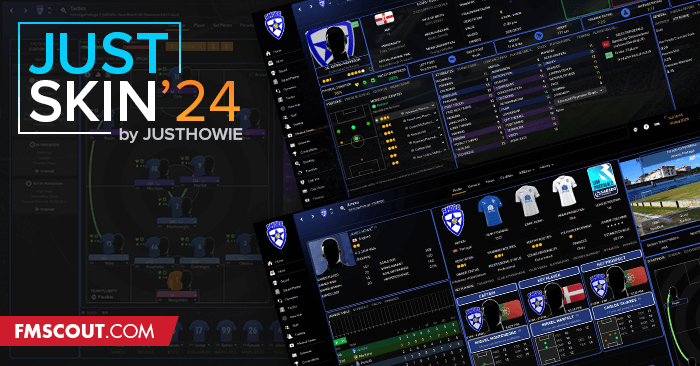 Just Skin 24
Just Skin Features
Rebuilt design around team colours.


MODS folder available (not fully tested for FM24)

Get the most from your tactics screen! many useful tabs added to the re designed tactics screen.

A hidden, hidden attributes panel that smiley face you see on the player profile screen is used to reveal hidden attributes in the adjacent cell (don't click if you don't want it spoiled may turn this into a mod)

Custom views throughout the skin for the views I use, most include player pictures!

Background selector for those who like a little more colour / backgrounds (recommend full cycling as the transparency is a little buggy).

Tabs! This skin is optimised for saving clicks where possible!

Complete overhaul of most pages presenting you with more information in places lacklustre in the base skin.

Key attributes drop down boxes present in most places to try and help you determine player retrainability!

Background selector with light and dark backgrounds for comfort of use.

Just Skin (Background selector available / Background friendly)
Updates
Several adjustments to better support smaller resolutions and scaling(27/11)
First MOD file updated. More to come(26/11)
Training panels fixes including button change(26/11)
Scouting knowledge for a team is now viewable on the club page (and also in your home panel)(26/11)
ALOT of graphical fixes and colour tweaks(22/11)
Player analysis tab now has more tabs thus clearing alot of squish(22/11)
More boxes and graphics fixes and removal of more unused files(16/11)
Clear up of clutter (old classes and widgets no longer in use)(16/11)
Cleaner profile screens with less boxes (16/11)
Graphical fixes (text not showing due to clash) (16/11)
Fixed processing panel (15/11)
City pictures should now work on club profile screens (15/11)
Overhaul to the graphics used

Massively reduced file size

Credits
Thank you to all the creators out there for your continued work! I can't fit you all in here but without these guys this wouldn't have been possible!
GIMN & Mustermann Skin Your support, help and suggestions are always valued! thank you for the nudge and getting me to go ahead with it all ...all

1125

hours

Keysi for the club finances snapshot.

bluestillidie00 and their amazing WTCS5 skin for the use of some of their panels, and the support on twitter (honestly made my week).

_ben_ and their amazing Statman skin for the use of panels, and occasional advice.

Wozzie for their beautiful and amazing Tato skin which I picked and pulled out for weeks / months and the use of panels.

FME Skin for some panels used.

Groot for their amazing Electric Panther skin and the beautiful colour pallet and panels that inspired me.

michaeltmurrayuk the amount of times I have opened one of your threads, Blog and your skin is unreal.

snowofman for alot of help both in the early days of me playing about with things and just being there on the forums not only for myself but everyone!

This skin is free to use and may not be sold or placed behind a paywall.
If you're planning on using anything from here for yourself in any release that alot of the leg work is due to the above and they should be credited for the work, I simply threw some boxes together changed some colours and made a few of my own things in there.
Find me on Twitter.. I mean X here.