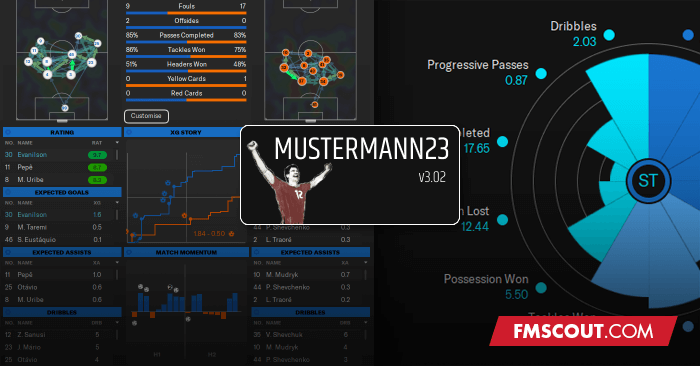 Mustermann23
A dark mode for Mustermann23. Overview pages have been overhauled with a sparse UI, prioritising key information and reducing clutter, whilst the new analytic stats added in this year's edition are given prominence on the player profile to help those who like to take a "Moneyball" approach to their careers.
Mustermann23 Dark v3.03
Credits
Quite a few to mention, and I'm sure there will be some that I've missed. If I've inadvertently used something you believe I haven't credited please let me know!
bluestillidie00
sebastian_starttrbts
Tyburn
_Ben_
Michaeltmurrayuk
wkdsoul
keysi
Wozzie
Heffem
Olas Nick
Jellico
vonTrips
RDF Tactics 
Dan Gear/Cleon Hobson/View From The Touchline
FM_Grasshopper
Rashidi
TheFFM
13thMan
SixPointer
Snowofman
FAQs and Patch Notes available here:
https://community.sigames.com/forums/topic/569678-fm23skin-mustermann-23-v211-updated-190323-dark-version-out-now/