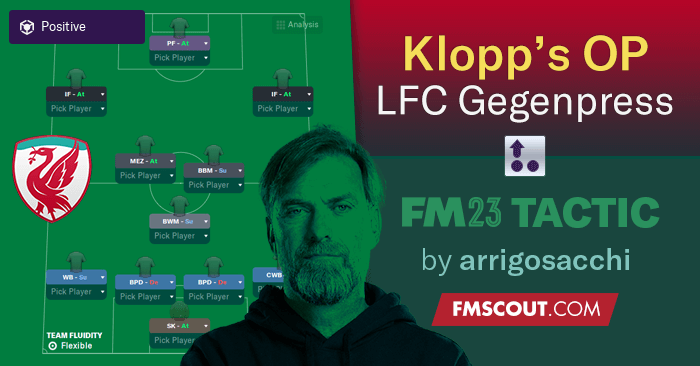 Hello guys, welcome to a new tactic emulation by your Tikitaka Master.
This time I will show you my emulation of Jurgen Klopp's gegenpressing at Liverpool.
I tested this tactic with Vicenza in Italian Serie C, but I did not start at the beginning of the league. I started my savegame as jobless and in December 2022 Vicenza manager Thomassen got sacked. I applied for the job and they hired me.
Vicenza despite having good players was only 7th in Italian Serie C. I trained my players to play a gegenpressing, and I started with a great victory against Mantova 4-0. I managed the team for 23 games (21 in Serie C and 2 in Serie C Supercup), won 17 games, lost only once, with 5 draws.
The term "gegenpressing" derives from the German for "counter-pressing". At its core, this means to win the ball back from the opposition immediately after losing it, preferably in advanced areas of the pitch.
This essentially works as a tool for putting your opponents under intense pressure in their own defensive zone, while increasing the likelihood of your team retaining possession for longer periods of time.
When a manager implements gegenpressing tactics, their team is expected to be on the front foot, seeking to win the ball back as soon as they lose it, rather than sitting back and allowing the opposition to have possession.
Let's analyze my tactic
Tactic: 4-3-3
Mentality
: Positive
Team Instructions
In Possession
: attacking width: wide, pass into space, play out of defense, slightly shorter passes, slightly higher tempo, low crosses, be more expressive
In transition
: counter-press, counter, distribute quickly, distribute to center back, take short kicks
Out of possession
: high press, much higher defensive line, trigger press much more often, get stuck in, trap outside
Players positions, instructions
Sweeper Keeper-attack
Complete Wing-Back- support (can switch to inverted winger-support to emulate Trent Alexander-Arnold position in this season)
Ball Playing Defender-defend: shoot less often, dribble less
Ball Playing Defender-defend: shoot less often, dribble less
Wing Back-support: stay wider
Ball Winning Midfielder-support: pass it shorter
Box to Box Midfielder-support: pass it shorter, take more risks, cross more often, dribble more, run wide with the ball, shoot more often, get further forward, move into channels, tackle harder, mark tigther
Mezzala-attack: mark tigther
Inside forward- Attack: pass it shorter, hold up ball, stay wider
Inside forward-Attack: pass it shorter, hold up ball, stay wider
Complete Forward-Attack: shoot less often so that the player will not attempt to shoot whenever he gets the ball and he will pass to his teammates more and drop down to get the ball.
These are my instructions for this tactic. Of course, you can adjust the instructions depending on how the game is going, especially if you see your players are getting too many yellow cards you can remove the "get stuck in" instruction and "tackle harder" from a player's personal instruction.
As you can see, you can use this tactic with lower leagues teams too, but of course if you don't have good defenders and if all your players haven't a good stamina, they will not be able to sustain the tempo, and the continuous pressing so that's why you can find only a slightly higher tempo in my tactic, because I tried to adapt it to Vicenza, not a top team.
If you use this tactic with Liverpool, Real, City and other top teams you can use an higher tempo too.
That's all for my tactic today. See you next time!!