Nik33's FM23 Data Packs - A more realistic way to play
The original Data Packs return for FM2023 which marks their 14th annual appearance!
You can download the individual packs you want from Steam or grab the entire collection in a single pack as a direct download here and manually pick the files you need.
Like last year, dear
majesticeternity
joins forces as she provided her excellent FM work to be adapted to my packs for your enjoyment. Credits to her too!
Updated
: 11 December 2022
Consider Donating
For anyone who'd like to tip.
Donate via PayPal
What's Included
Nik33's Career Plans pack
Adds career plans to players/staff taking into account their real life choices, interviews and social media posts.
Nik33's Club Colours pack
Changes club titlebar colours to their correct ones based on their logos and football tradition.
Nik33's Club Names & Nicknames pack
Adds nicknames for many teams and nations. Updated with correct Brazilian, Spanish, Chinese, Portuguese, French, Italian and other full/short names - without losing the nicknames like when using .lnc files!
Nik33's Competition Abbreviations pack
Updates 150+ competition abbreviations to match their licensed names.
Nik33's Derbies pack by majesticeternity
A derbies overhaul: Adds more than 550 derbies all around the world and adjusts their reputations.
Nik33's Languages pack by majesticeternity
A language overhaul: Added 80 New languages, 62 new Dialects. Edited 100 Nations and 1,500 Regions. Experience the world's cultures.
Nik33's Relationships pack
Adds more than 110 new relationships depending on player interviews, social media posts and other incidents. Also adds players' idols.
What's NOT Included
...but you can find on standalone pages.
FM23 Agents pack
Adds more than 1,020 real life agents and their connections to 13.000+ players/clients.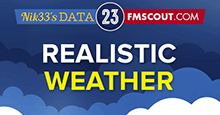 FM23 Realistic Weather
Real-life annual weather data to optimize current weather patterns, and create new ones.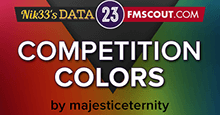 FM23 Realistic Competition Colors
Updates more than 400 competitions to their official colors.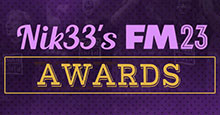 FM23 Awards Overhaul
160 New Awards, along with a entirely reworked reputation system.
How to use Nik33's Data Packs on FM23
Extract the contents of the downloaded .zip archive to get the individual .fmf files.
Move the ones you want to your "editor data" folder, which is located by default at:
Documents > Sports Interactive > Football Manager 2023 > editor data
If the folder doesn't exist, you need to create it yourself.
Start a new career save and make sure to select the files you need from the list (when selecting the database, before Advanced Setup).
Credits
Thanks to
majesticeternity
for trusting me to carry on her excellent work from FM21.
Thanks to
Diego1960
for his steady info support.

Topic in Greek