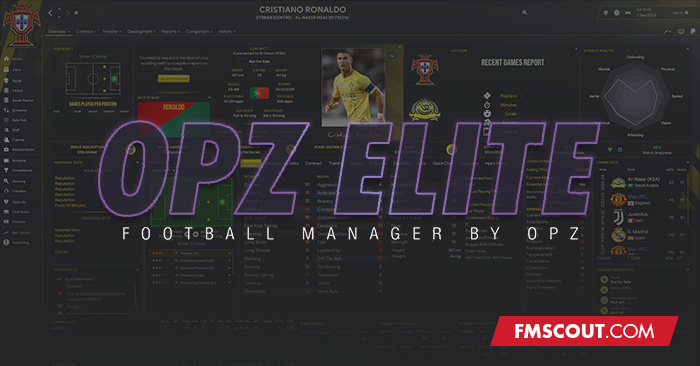 Skin Credits
- Wannachup skin
- michaeltmurrayuk
-
FLUT
- CFM
- GZskin
- YACS
- TCS
- Heffem
- SSD Gold
-
Wozzie TATO
- DD2021ST
- FME - Zealand
-
Mustermann
-
Statman
-
WTCS Gold
---
OPZ Elite 2024 (for 1080p)
OPZ Elite 2024 Blackout (for 1080p)
OPZ Elite 2024 Blackout 2k (for 1440p)
If you see any bugs for quick fixes, please send me a picture.
ver. 24.1.1
- Fixed Player profile doesn't show stats the first time you view it. (fake player, gray name)
- Update Player profile.
- Minor Changed.
OPZ Elite FM24 Skin Preview
OPZ Style FacePacks 2024
https://opzchannel.blogspot.com/2023/11/fm2024-opz-style-facepacks-2024.html?fbclid=IwAR2Lr5QZalcRBjnvmiR-TDlkr5lFmsMKdrUVy6yxrMkNv4uYlOUqSiyUHyg
---
PayPal Donation
My Site
Special Thanks
Thank you for all the support!
Randall Boese / Kitti Ekthanapakdee / Michał Olszak / Willem-Alexander / Heylen Kevin Cornelius / Eike Thellmann / butleriain / Si49 / Smileylad / Tygel Camilleri / Rusiak / Erhan Inan / Michał Olszak / Christian Oberreiter / Matthias Tatzl / Orlando Casimiro
for donations.
New Donations << Jesse Sirkus-Brow >>