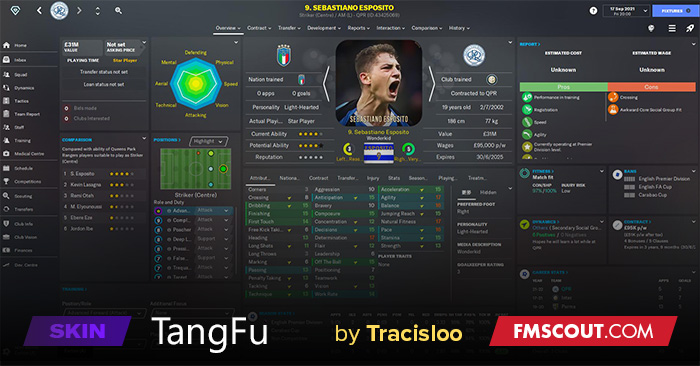 This is my first FM20 skin.
There are two versions of my skin.
The biggest difference between them is the player Overview Profile,other parts are the same.
Different Versions
You can choose according to your preference.
TangFu Skin Middle E V1.1.1
TangFu Skin Middle Left E V1.1.1
TangFu Skin / FM20 Preview
Don't use city background,this skin doesn't support !!

Clear the cache before using it !
Clear Cache!!! Clear Cache!!! Clear Cache!!!

If the screen turns red,please set scaling 85% or 125% and reload skin!!
Then the screen will go normal. You can set 100% to keep playing the game!

If game crashed, please clean cache! and delete "Documents\Sports Interactive\crash dumps"
Credits:
Heffem skin

FMNATION skin

Wannachup skin

YACS skin

SSD gold skin

Tad Twenty skin
My English is not good, some things can't be said.
But i want to say thank you to other skin's author.
I'm glad if you could enjoy playing Football Manager with this skin!!
人生自在常如此,何事能妨笑口开?
Have a good time!!