Portugal have produced many of greats in its time. Eusebio, Paulo Furte, Luis Figo and of course a world star of this generation, Cristiano Ronaldo. Some of the football witnessed by its fans has been incredible, and they have earned the tag of 'The Brazilians of Football'. On paper the team now still looks great, but there are lingering problems which plague this Portuguese team. They will know be looking to put past disappointment behind them as they head to the World Cup in Brazil, the true home of football.
Portugal have been handed a tough draw in
Group C
alongside Germany, USA and Ghana. Nonetheless, Portuguese fans will be hoping that their players can finally live up to expectation and have a good run in the tournament. As I said if the Portugal players turn up and perform to their best then it may finally be the time where these talented players find glory after being regarded as a threat for so long.
World Cup History
Despite Portugal featuring many top players and fielding some very talented line ups in the past their honours list is pretty abysmal. Their senior side has failed to ever win a major competition, however they did finish in 3rd place in the 1966 World Cup as well as being the runner up in the 2004 European Championship. Will this be Portugal's year to finally bring home the World Cup?
Key Players
Arguably the best player in the world today, Real Madrid's No.7
Cristiano Ronaldo
has been nothing short of extraordinary over the last few years. Again he was in fantastic form in the season just gone by, helping his club lift the Champions League and personally winning the 2013 FIFA Ballon D'or. No side is a one-man team, but Portugal, at times, do a pretty good impression of one with Ronaldo being the centre of everything. He is in his prime and although never quite making much of an impact in the World Cup so far, this could be his time to shine on the international stage. He is vital to any possible Portugal success.
Another Real Madrid man who will be key to Portugal's plans in the upcoming World Cup is experienced central defender
Pepe
. At 30 years old, Pepe is still in great shape and when on form can be a very tough player to get past. Although his discipline problems are a bit of a problem if he can stay on the pitch he will be a huge asset with his top quality defensive attributes. Pepe can be the rock at the bock and provide a very solid backbone to the Portugal side for the competition.
Every national team needs balance across their side, with Cristiano Ronaldo and Pepe alongside them is AS Monaco's midfield talent
Joao Moutinho
. Moutinho is of the perfect age, 27 years old, and is a real creative force in this team. He will be expected to provide Cristiano Ronaldo with the ball on a constant basis as well as forge other moves with his great technical ability and passing. Not just that but Moutinho is a 'workaholic' making him the complete midfield player, and adding a lot to the Portuguese starting 11.
Ones to watch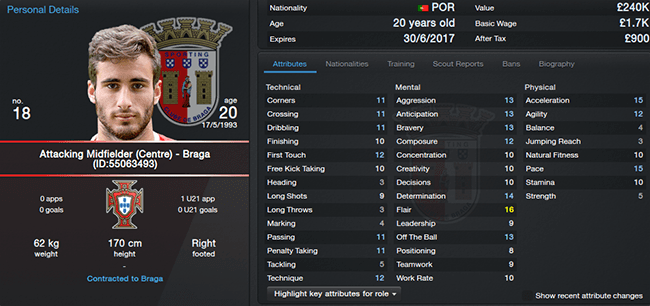 Although he may be relatively unknown and his stats on Football Manager show limited current ability, Braga's young 20 year old attacking midfielder
Rafa Silva
is certainly one to watch in the Portugal team and could be a real hot prospect for the future. It is most likely that he won't start and instead will be utilized as an impact player from the bench which could be very effective. For Braga he has had an impressive season but even if he doesn't stand out at this World Cup, expect him to be an important part of the future.
Another player to keep an eye out for is 22 year old prodigy, who plays his trade at Sporting Lisbon,
William Carvalho
. He is, no question about it, Portugal's next big thing and is already being monitored by Europe's top clubs. Carvalho is intelligent with and without the ball, capable of covering for his defence without making too many fouls, rarely loses possession and physically is very strong and quick too. He is a complete player and is still young so still has his best days in front of him. He will slot into the Portuguese team perfectly and if he can hit his best, will be one to watch most definitely in this World Cup.
The Manager
Leading his home country to Brazil is 44 year old
Paulo Bento
. He has been in charge of Portugal since 2010 and led the national team to the European Championship Semi Finals in 2012 meaning he already has experience in managing Selecção at a major tournament. His man management skills are very effective and he will be looking to get the most out of his players in order to achieve success in the World Cup.
Players ruled out due to injury
Unfortunately for Portugal, key man Cristiano Ronaldo is an injury doubt with the World Cup not long away now. He is of course part of the squad and is back in training now but is battling to be fit for the competition. If he doesn't make it, this will obviously be a massive, massive blow and severely ruin their World Cup hopes. Early signs suggest that he should be OK though. In terms of players definitely ruled out, there are not any too significant players missing so now it will all rely on whether CR7 will be fit in time.
Prediction
In terms of the media prediction, it is widely agreed that Portugal will progress from their group although it won't be easy and many are predicting that they will finish in 2nd spot. As for the knockout stage, Portugal are seen as a quarter final team but with Ronaldo in their side, he could single handily push them further.
I honestly agree with the media's prediction, in saying that they will progress from their group albeit not easily and finish second place. Lapses in concentration and inconsistency throughout the team has been their major weakness of late but if Ronaldo performs well, who knows how they will do in the knockout stage? They could go reasonably far, but in the end I think it will be too much of a job completely piled on one man and they will make the Semi Finals at most. More realistically, will be knocked out in the quarter finals.