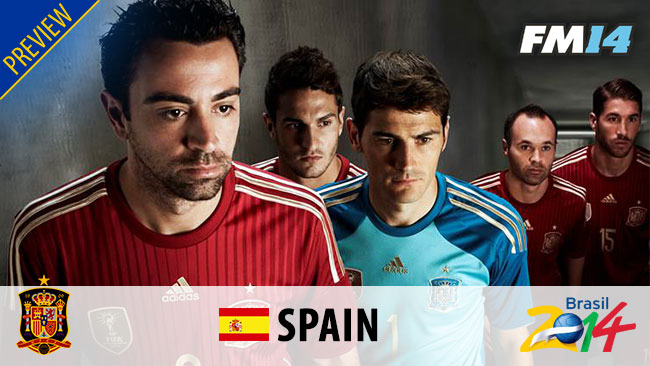 Spain, one of the most decorated national teams in recent years. They are also host to the La Liga BBVA, featuring two of the most renowned clubs in world football. Barcelona and Real Madrid. As Spain achieved success in recent years they have also received many plaudits for their fantastic passing style of play. But, with the ageing of some of their players and the emergence of other nation's players, it remains to be seen whether Spain can retain the World Cup trophy in the upcoming tournament in Brazil this summer.
Spain have been drawn in
Group B
alongside Holland, Chile and Australia, with the group being labelled this year's competitions' 'Group of Death'. It most definitely is a tough group but with the caliber of players Spain feature and their recent tournament history they will of course be expected to progress much further than the group stage and potentially even win the tournament.
World Cup History
Although Spain have only ever managed to win one World Cup in their history, in 2010, their national side has gone down in the history books recently after winning three consecutive competitions, UEFA European Championships 2008, FIFA World Cup 2010 and UEFA European Championships 2012, becoming the first ever team to achieve this. Thus, they have been hailed as one of the greatest ever teams in world football, and the current holders of the World Cup will be looking to prove this again in Brazil.
Key Players
One player who is a key component of the Spanish side is central defender
Sergio Ramos
. The 27 year old plays his club football for Real Madrid, and his fantastic defensive attributes such as tackling and heading make him the perfect player to cut off any opposition attacks. Combine him with his defensive partner Pique, another class player and you have the backbone to a top national side, most definitely capable of winning a World Cup.
Andres Iniesta
, the goalscorer of the winning goal in the 2010 FIFA World Cup Final against Holland. He is the midfield maestro of the Spanish side and will need to show his quality again in the upcoming competition. The Barcelona man's incredible passing, creativity, dribbling amongst his other top qualities make him one of the best midfielders in the world and an instrumental figure of this Spanish team. Many fans will be expecting more magic to be produced in Brazil by Iniesta.
With Spain lacking in a prolific goalscorer since the ageing of David Villa and the decline in form of Fernando Torres, powerful striker
Diego Costa
will be heavily relied on during this World Cup to score the goals needed for the team. Costa was born in Brazil however he was eligible to play for Spain and has been picked after an incredible campaign for his club Atletico Madrid, helping them to win the La Liga title. His finishing is top notch and given the opportunity he will most likely score. It will be interesting to see how Costa adapts to playing as part of the Spain team, but many are expecting him to do well and he will definitely be a key player for the defending champions.
Players to Watch
There are many class players within the Spain squad, and it is hard to knock these experienced internationals off their place but one example of someone who has done just that is
Cesar Azpilicueta
. He is traditionally a right back however he impressed hugely over the course of the season for Chelsea, playing as a left back taking Ashley Cole's spot at Stamford Bridge. If Azpilicueta can carry over his club form to his country, he will certainly be one to watch during this World Cup with his all action displays and high work rate a common theme in his play.
Another player who will be one to watch in Brazil this summer is Atletico Madrid's midfield talent
Koke
. He is only 21 years old but had a very good season at club level leading to his call up to the national team. Koke was so good that his inclusion meant that Real Madrid's Isco was left out of the squad in his place, proving that he has great ability to make a difference if given the chance in the World Cup.
The Manager
Leading the Spain national team is 62 year old Vicente Del Bosque. Del Bosque is very experienced and has already won the World Cup and European Championship while in charge of Spain. Not only that but he had a highly successful spell as manager of Real Madrid winning La Liga twice, the Champions League twice amongst other titles. He is a very knowledgeable boss and has already proven that he has the capabilities to help Spain win the World Cup.
Unavailable due to injury
Most teams will always have players ruled out of the World Cup due to injuries. Fortunately for Spain, the only notable absentee is Victor Valdes. However, with Iker Casillas ahead of him anyway he is not much of a miss with Pepe Reina and David De Gea other goalkeepers in the squad who can fill his spot. With injuries not a problem for Spain, their World Cup hopes haven't been hampered badly and they have a much better chance of glory.
Prediction
The media has Spain odds on to lift the World Cup, as they are of course holders of the competition, have won their last three international competitions, and have an incredible strong squad and manager. There will be high expectation on the players representing Spain and anything less than achieving a place in the final will most likely prove to be disappointing for the Spanish media and especially the fans.
In my opinion, I think that Spain will as always highly entertain many fans with their performances in Brazil however personally I think that their 'era of dominance' on the international stage may be coming to an end with players ageing and the emergence of stars from the likes of Brazil and Belgium. Despite all this, I believe Spain will progress from the 'Group of Death' and eventually go on to the finals but will ultimately lose out.
What are your opinions on the Spain national team and what is your prediction for their World Cup 2014 journey? Be sure to leave a comment, below.