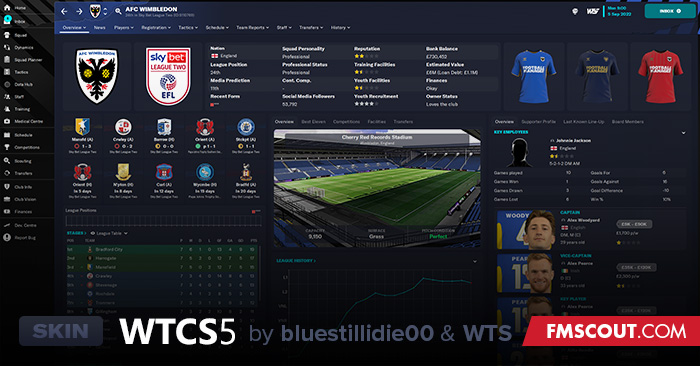 After the success from TCS '19 to TCS3 (2021), myself and WorkTheSpace have once again worked together to create the optimal Football Manager skin for the 2023 iteration of the game.
Noting the lack of progression between the 2022 and 2023 game release, the goal for the skin is to give the end user a brand new experience while retaining the vibe of the original skin and v1.0 is the first step in the process.
WorkTheSpace Overview Video & Install Guide
As it is only v1.0, the first iteration is basic, featuring changes to key panels like the club and player overview screens, as well as many other Quality of Life features, such as:
Instant Result
Featuring tweaks to the popular TCS4 skin's player and club overview panels to further enhance the user's experience.
An adaptable experience to support the skin on a range of resolutions. (Not perfect, but its ok.)
Player faces on Tactics screen
1.1.1 Features
Match:
Added more information to schedule screen
Added WTS Schedule view to fixtures list
Player Overview:
Fix for issue with player kits not changing
Re-added Data Hub request button
Fixed issue where stars popup was using incorrect panel
Fixed bug where Abilty dropdown showed incorrect potential abilty
WTCS5 Screenshots
-----------------------
As well as this, the skin features a few easy modifications to allow the user to customise their experience how they like it.
A. Remove WorkTheSpace Branding
A simple mod which removes all workthespace references in the skin.
B. Remove Instant Result
Some people like me, don't like Instant Result, this mod removes that.
C. Add player faces to Squad Lists
D. Alternate Captains Armband Icons
v1.1 features a new captains armband icon, this mod allows you to swap it out with a handful of alternatives.
E. Alternate UI Colours
Easily change to a dark skin ala TCS 19, or even the WorkTheSpace purple version of TCS '19!
F. Add Kit Label to Club Overview Screen
G. v1.0 Background
v1.1 has updated the background, the old one has been added if people preferred
H. Content Creator Match UI
An alternate UI for content creators, which restricts the amount of info hidden by webcams.
-----------------------
How to install attributeless:
You
MUST
install both skins, attributeless doesn't work without without the normal TCS installed. Following that, load the skin in game, then you
MUST
reload the game.
Please note this skin is provided as is. It has nothing to do with Sports Interactive or SEGA and won't be supported by them.
I won't be providing any support for this skin apart from major issues, don't request features as they will not be considered.