FM 2014 Tools
Scout utilities, data editors and some other tools for Football Manager 2014
---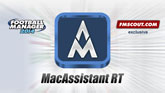 246711 51436 367
The one and only fully featured assistant / editor for Football Manager 2014 and Mac. Works with Mac OS X 10.7+ and the latest 14.3.1 patch.
677647 195851 264
FMEL14 is a real time editor for use with Football Manager 2014 that enables you to edit essential club and person information on the fly (such as finances, kits, injuries or stadium capacity). Compatible with the latest 14.3.1 patch.
1185552 425442 230
World's most popular scouting tool for Football Manager returns for FM14. Works with latest 14.3.1 patch.
↑