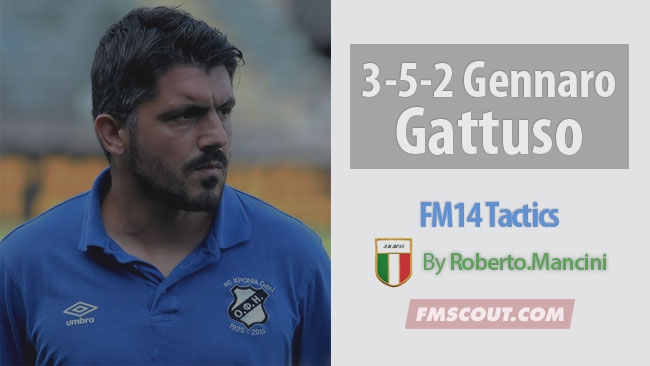 Words of legendary Greek coach Nikos Alefantos after Milan defeated Barcelona in San Siro:
"Milan played today extremely passionate. It was like I was watching ten Gattuso's to play football, I lost my mind, it was impeccable!!!"
Despite that Gattuso was absent his spirit was on the pitch. G.G began his carreer as a coach in a wrong way. After the experiment with cocaine addicted president of Sion Damien Constantini he messed up his career more with owner Zamparini. A person like Zampa doesn't need any introduction as for his morale value. His criminal record and the unlimited police visits to him talk by themselves.
Instead of enjoying his calm family life and his millions that he earned on the pitch, Rino decided to walk over the palko scenico of coaching life. Like Von Karajan used to say "its easy to be an orchestra, but very difficult to direct it", Rino was aware of that but he wasn't aware that in a miserable country like Hell-as will have to apologize to 8 daily sport newspapers for his beliefs and opinions.
It's difficult to come in terms that in the country of Platon and Socrates, you must wake up and sleep on how to be good with others by satisfying their appealing psychology and ego. Rino never made favours on and off the pitch. He lost his eyes because of battling mentality, he lost his family peace because of football and he lost his temper because of a cheap tabloid named "Goal". Unfortunately for this tabloid, they were caught offside when Rino made them a public humiliation by revealing their real motives and beliefs about him. Especially how this newspaper was motivating his players to sabotage him by using people who were close to the team's president to add pressure on Rino.
The most intriguing story here remains though, the fact that the club's PLC ownership remains "Motor Oil Hellas" and the administrator for the Stadium Gedi Koule is miss Agapi Vardinogianni. Manthos Poulinakis was an ex-secretary in various companies of Vardinogiannis family and still he has a personal touch with Agapi, Tzigger and Giorgos Vardinogiannis. Vardinogiannis family must notice was from Crete and they helped OFI more than enough in order to gain a respectable European and Greek status. Despite the brother of Giorgos Vardinogiannis -Vardis- died early, the connection between OFI and Vardinogiannis never broke up entirely.
All of these must be underlined and written publicly because the shadows and masks must fall down some day. The country of Aesop doesn't need any more fairy tales. It's about time to pay honor and respect to real football heroes like Rino Gattuso who give their life everyday on the football pitch in order to see a better sport. Without snakes-journalists, without soft/Jewish manipulation management and without shadows about everything. Rino said publicly "my door is 24 hours per day open, why nobody comes to me to talk face to face?"
* Gattuso has made many donations secretly and has a big heart that everybody has a place on it. I was an eye witness in some of Rino's charitable actions.
The FM14 tactic
The tactic that I am going to present you is a photocopy of G.G personality in the terrain. Proud, explosive, calculated and very combative. I am adding always my own views and beliefs and I never "copy" any coach simply because this is me. I cannot become exactly e.g Van Gaal, Simeone, Sir Alex etc. What I try to do is to bring close to the reality as much as I can. I love reading and writing but unfortunately my working time plus some health issues (minor) don't allow me to dedicate more time on presenting my work appropriately. In order to avoid any confusion, I present here what I consider interesting from a coaching point of view. There is no love and hate on my work. However I have my moral codes and ethics and I demand respect to them like I do with every other similar codes.
This particular tactic is impressive for many reasons :
OFI had a team which is individually as a roster 2nd division level
Tactics with 3 central defenders advocate players' and coach's intelligence
Collective manner and approach are highly rewarded due to tactic's efficiency and consistency
I used these tactics with Fiorentina and I won Serie A on my first season in charge there. It was not a miraculous achievement for the simple reason that I made 2 crucial movements in the beggining of the season : I fired "Pinocchio" Daniele-Sion-Israel and I employed on pre-season some heavy 5-3-2 modules in order to help my team to get adapted into the more refined and delicate 3-5-2. I made some very hard and difficult experiments which were gave me oxygen in the 2nd round of the season. Like using Gomez 2 times out of 11 first games, like introducing Rebic as a key (!!) player and like giving to players like Ryder, Tomovic and Ilicic much more playing time than they could normally deserve. The secret was otherwise -clean dressing rooms & justified internal competition- which helped me to sustain such remarkable feats during the entire season.
All Rights Reserved