Cullis: Happy with transfer business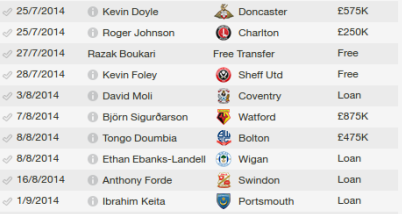 The boss has confirmed that he is satisfied with the business the club did over the summer. While a section of supporters have been disappointing to see only two players join the manager has justified this by reassuring that the players are good enough to compete in this divison and has lauded the potential of our young players as a reason not to reinforce.
There were more outgoings late in the window. Kevin Doyle, Roger Johnson and Tongo Doumbia were all out on loan last season and were informed they were surplus to requirements at the club. The trio have qualities which justified them remaining in this division and the club would like to wish them the best.
Bjorn Sigurdarson has moved up to the Premier League with Watford. Again he was out on loan last season and leaves on good terms.
Kevin Foley has been a long serving player at the club but has been informed that at his age his chances of regular football is limited. Kevin asked to be allowed to leave and we could not stand in his way. The manager described his departure as a "shame" citing his valuable assets in different roles as something they'll miss.
Three players have been loaned out in the hope of regular, competitive football to aid their development.