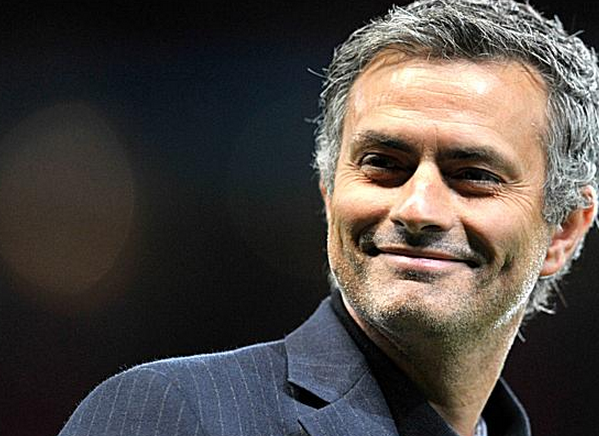 Line Ups
Feyenood XI:
Raif Husic, Michael Keane, Mairan Sarr, Alejandro Torres, Oscar Hiljemark, Dennis de Lange, Gedion Zalaem, Jens Toornstra (c), Dorin Rotatriu, Dejan Meleg and Jao Rodriquez
Chelsea XI:
Thibaut Courtois, Kurt Zouma (c), John Stones, Aleksandro Dragovic, Juan Bernat, Chris Brazil, Nathaniel Chalobah, Thiago, Oscar, Eden Hazard and Isiah Brown
Commentary
'0'
- "This is how it should be, two of the most well-known managers of each generation contesting in the showpiece final at the end of another Champions League final. This is where every player in the world wants to be tonight. These are the moments and events that you live for."
Feyenoord 0-0 Chelsea
'1'
- "Back in the days when Chelsea were considered the best team in Europe, maybe it is time for history to repeat itself. Chelsea are playing some very talented players tonight, no doubt. The crowd tonight is very tense right now as this could be Jose Mourinho's last managerial match, ever. There is a lot of tense and strong atmosphere currently."
Feyenoord 0-0 Chelsea
'2'
- "Last year, manager Darius Xavier claimed European championship and realized his dream. Darius Xavier could retain his title tonight if his side is able to overcome Chelsea."
Feyenoord 0-0 Chelsea
'13'
- "Midfield Feyenoord players are passing the ball shortly outside of the Chelsea penalty box. Look at that pass from Gedion, what a ball that is wide, what a ball. Jao Rodriquez shoots and Courtois saves! The ball falls loosely to Eden Hazard who launches the counter-attack against Feyenoord. He's fast and furious, the defenders can't catch him. Hazard is past the half-way line, can he go all the way? He shoots! The keeper puts it wide. What a match so far! Both teams are playing football out of this world."
Feyenoord 0-0 Chelsea
'45'
- "It is half-time now in the most intense and biggest match in UEFA Champions League history. There is not many things separating these teams except Chelsea players are putting extremely hard tackles with 6 of them are booked on yellow cards. We will see if any time can make the scoreline stretch in the second half".
Feyenoord 0-0 Chelsea
'54'
- "Jao Rodriquez is one-on-one with the keeper after using a beautiful piece of skill to get past Kurt Zouma. Except Zouma has caught up! Zouma has seemingly dragged Rodriquez down! That looked like a dive to me, but the referee has given it?! Penalty to Feyenoord. Zouma looks really upset as he looks over to his manager on the sideline. Captain Jens Toornstra steps up to take the penalty. Jens Toornstra looks content in taking this penalty as he knows what's on the line, a manager's career and the UEFA Champions League title. He runs and smashes it into the roof of the net! Feyenoord lead here in Italy.
Feyenoord 1-0 Chelsea
'57'
- "Kurt Zouma is really upset about the decision on the penalty as he watched Feyenoord take the lead after what he believed to be a dive in the box by Jao Rodriquez. But as captain, he must be an example to the others and inspire them to get one back. Gedion Zelaem picks up the ball at the half-way line. Kurt Zouma slide tackles Gedion from behind! What the hell was that about? The referee brandishes Zouma a red-card as he walks off the pitch with his face buried in his hands."
Feyenoord 1-0 Chelsea
61'
- "Folks, I can't believe what I'm seeing here tonight. The Chelsea fans are cheering on the players trying to inspire them to get back into the game. Nathaniel Chalobah looks on and nods his head in disappointment? Chalobah has given up. Jens Toornstra picks up the ball in Feyenoord's half, Chalobah just battery rammed Toornstra! Chalobah has already been booked. Here comes another red card for Chelsea. Chelsea are down to 9 men with their managers career in the balance."
Feyenoord 1-0 Chelsea
'74'
- "Dennis de Lange the young wing-back is charging at the Chelsea center-backs, he plays the ball forward to Jao Rodriquez who makes a beautiful run! He gets a touch on the ball and slots it into the opposite bottom corner, what a fabulous goal! Jao Rodriquez runs to the corner flag and celebrates. As of right now, Jose Mourinho's career is over and Darius Xavier retains the UEFA Champions League."
Feyenoord 2-0 Chelsea
'90+5'
- "The final whistle has been blown. Feyenoord have their hands on the trophy again. Feyenoord are still champions of Europe! Darius Xavier is now a two-time UEFA Champions League title-winner. We now know that the top manager in this business is Darius Xavier. But most importantly, the legendary Jose Mourinho's career is over.
Match Statistics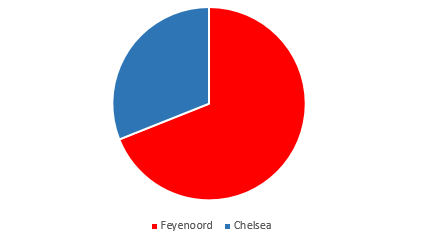 Shots
were in the favor of Feyenoord tonight as they accumulated a total of 20 meanwhile Chelsea was able to get only 9. This has many factors to take into consideration for the lack of shots such as the nerves of the players, playing for their manager's career. 2 players were sent off from Chelsea's time were undoubtedly key factors to take into consideration.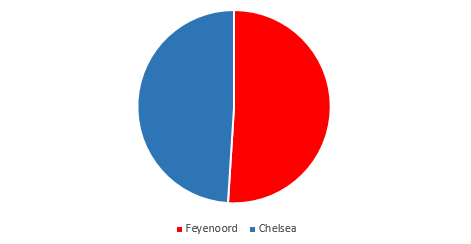 Possession
was mostly split 50/50 but Feyenoord picked up a lot of there possession after the 78th minute in which they were 2-0 up and just retained the ball which gave them 2% more possession than Chelsea.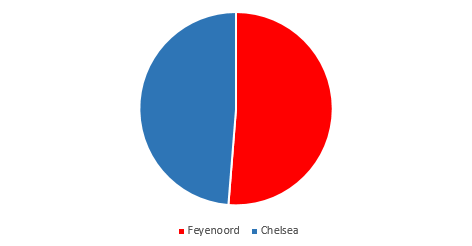 Pass Completion
is exactly the same as Possession in the retrospect that Feyenoord retained the ball after the 75 minute and 'parked the bus'. Feyenoord had a solid 82% pass completion rate and Chelsea had again, a solid 77% pass completion rate.
Manager's Comments
"This season is my last season with Feyenoord and it's been a great one. I've built this club up to be a European powerhouse and I intend to do that with the next club I go to. You never know, I heard Chelsea's manager position has opened up."
-Darius Xavier
"This game was not expected, at all. It did not come down to the managerial skills or the team tactics, the formation or anything like that. It just came down to the players. If they could perform under pressure, obviously, they couldn't. 2 men were sent off. Stupid challenges. We gave away a penalty. Now, my career is over. This is my farewell, goodbye football."
-Jose Mourinho