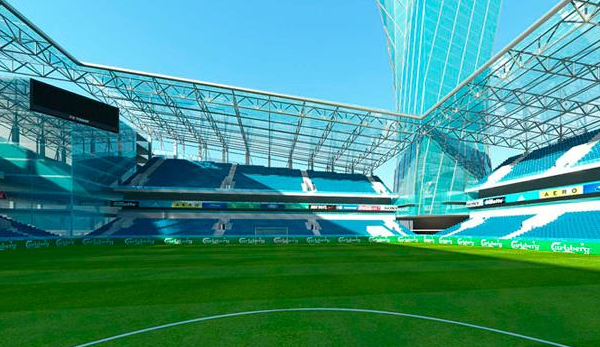 Overview
CSKA Moscow has admitted that CSKA Peschanoe could be deserted for the team's European Champions League clash against Feyenoord with a low turnout expected among supporters. Estimates are putting the number of tickets expected to be sold for the European Champions League First Knockout Round 1 is around 15,000 out of a potential 40,000. This match is seen as the weakest match on the fixtures between teams as these teams were expected to be knocked out in the group stage, however it should be an interesting game nonetheless.
Predictions
"This isn't going to be a match that a lot of people tune into tonight, but I think it's going to be the dark-horse in the fixtures for the Knockout Stage. These two teams are teams that don't have naturally great players but splendid teams due to team-work and work-rate. It all comes down to the team that wants it most. It's all about the players tonight, as much as Darius Xavier wants to make it about him, it's down to the players in the squad that will be the deciding factor tonight."
-Jamie Carragher
"Unlike Jamie Carragher, I think this game is about the manager. The managers tactics and how they will combat the opposing team. Jamie said that the players are somewhat equal, same defence, same attack and it comes down to the manager sets them up and the instructions he gives them. CSKA sacked there manager a week ago and you cannot fault Darius Xavier, you gotta give him the respect he deserves for being unbeaten for a total of 101 league games. He's a world-class manager and I think he will take this game."
-Gary Neville
"This is going to be a decent match even though these teams aren't the best of the best in the competition but I dare say these two teams are equal in nearly every way. I'm looking for the home-team CSKA Moscow to edge this game or a low goal draw of about 1-1. It will be a decent match, but I see one team taking away with a result and that will be Moscow!"
-Alan Shearer
Match Statistics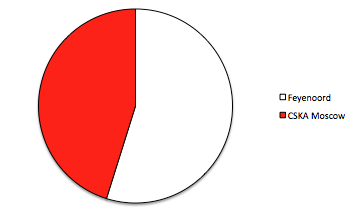 Shots
was quite even in this match. The home-team CSKA Moscow had 14 shots with 5 shots on target. CSKA Moscow also had a very a large amount of clean-cut chances of 5. Feyenoord had a slightly more amount of shots of 17. Feyenoord also had 8 direct shots on goal. Feyenoord had a very slim amount of clean cut chances of only 2.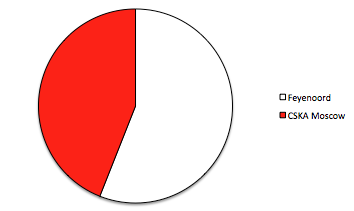 Possession
was a minor factor to this match. Feyenoord had more possession as they normally do due to there tactical system. This led to Feyenoord having 56% of the ball during the entirety of the game. The home team CSKA Moscow had 44% of the ball and seemed to not be able to get into the game, at all. The high pressure from Feyenoord really dispossessed the home team CSKA Moscow a lot in this clash.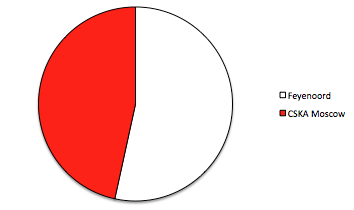 Pass Completion
was quite even with only a 10% difference. CSKA Moscow has a total of a solid 68% pass completion ratio. Feyenoord had 10% more than CSKA Moscow with 78% of pass completion. CSKA Moscow looked very down about the whole match and didn't show any passion for retaining the ball via passes, instead just running at the defence of Michael Keane.
Result
Inside forward Jean-Paul Boëtius got Feyenoord off to a flyer by scoring a shot from distance on 6 minutes. Wonderkid Dennis de Lange doubled Feyenoord's lead with a freak goal on 36 minutes. Winger Gastón Vázquez completed the rout with an accurate finish on 45 minutes. CSKA Moscow were nearly gifted a goal on 50 minutes through Liam Moore's lapse in concentration but they failed to capitalise on the opportunity presented to them. CSKA Moscow were nearly gifted a goal on 82 minutes through Guido Janssen's lapse in concentration but they failed to capitalise on the opportunity presented to them.
CSKA Moscow 0-3 Feyenoord
Manager's Comments
"I don't think this was a 3-0 match to be perfectly honest. We had less possession of the ball, but the quality of the possession we played quite well. We had a lot of shots at goal and I think the Feyenoord goalkeeper was exceptional today and I hope to rebound at De Kuip."
-Igor Akinfeev (Captain of CSKA Moscow)
"You critics will say, we won this match because Moscow has no manager however even if there was a manager the result would be no different. My players should have scored 6 goals tonight however 3 of them were ruled offside. The fans had a big part in this match, the home fans really saved there team from getting even more humiliated, the referee played into the hands of the people and I think it's a disgrace."
-Darius Xavier (Manager of Feyenoord)