Almere City 2.03 - September 2015
Matches

Almere City 4 - 1 Den Bosch
I changed some things around and the team responded very well, Gulner had 2 goals and an assist, and Serge Simon was a super-sub at AML, providing 2 assists.
Jong Twente 0 - 1 Almere City
I would really hope we would win this one, as Jong Twente hasn't won any points in the league yet. However, it was more like a Georges St. Pierre fight than a Ronda Rousey fight, we get the early advantage and lay on top of the opponent with our possession, instead of knocking them out with a multi-goal display.
Jong PSV 0 - 3 Almere City
N'Doumbou was the star of the show again, scoring 2 goals within minutes of each other and picking up an assist.
KNVB Beker 2nd Round
NEC 0 - 2 Almere City
Playing a mostly B-team lineup turned out well, defenders came up big scoring goals on set-pieces, as Andrea Mei and Matthias Trenson each scored.
Achilles'29 2 - 4 Almere City
Alexander N'Doumbou played most of the match with an injury, but thankfully it was just a bruised shin and he'll just miss the next match. Achilles'29 gave us some scares but we kept fighting.
Jupiler League Table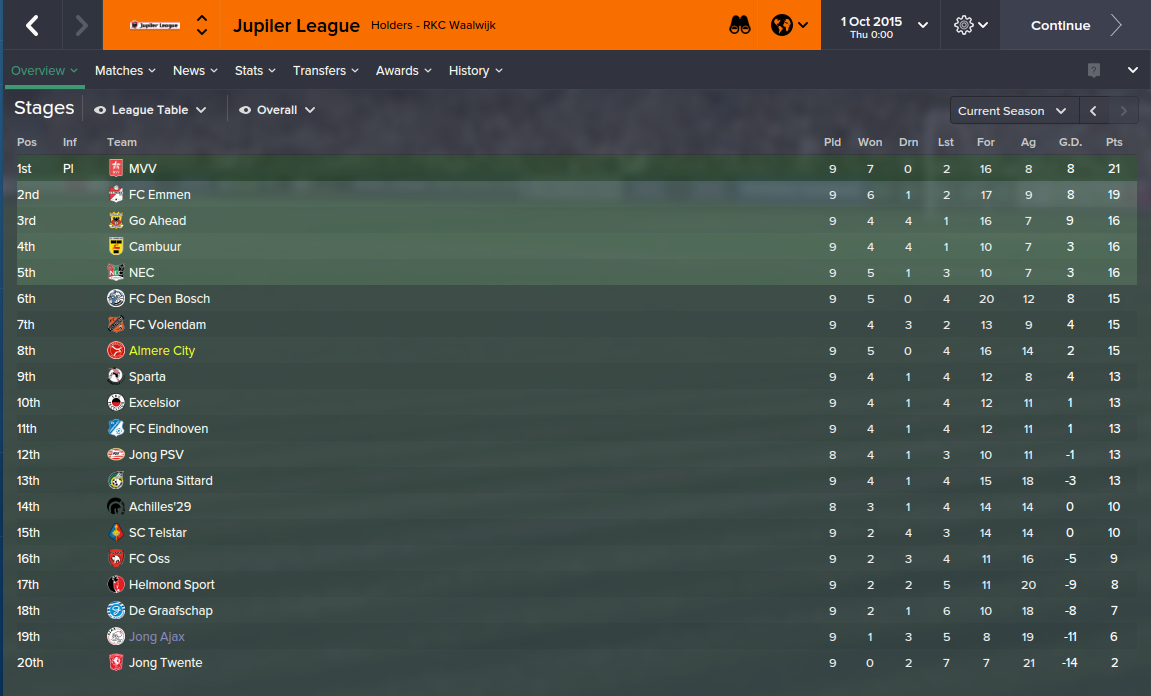 I really hope this month wasn't an outlier. We're just 6 points off the top spot and my tactical fixes seemed to work, so let's keep rolling!