May Recap
1 June, 2016

The firs season under Finnish manager Teemu Nieminen is finally over. The month of May was a very interesting month as the Red Devils would get a win, draw and loss in the final three matches. It did not matter as in the previous month they had locked up the third spot giving them a shot at Europe for the next season. Right after the match against Glacis Utd. Teemu signed a one year extension.
The month began with a tough loss to Lions. In this match Neiminen was looking to bring in some of reserves and youth to give them a chance and to see how they could do next season. John-Paul Duarte would be our only goal scorer in this 3-1 loss. The next match came in the form of a draw against St. Joe's where Brian Perez scored a late goal to give us a point. Finally Manchester 2 capped off the season with a big 2-1 victory over Glacis United.
Player of the Year:
John-Paul Duarte was a class above the rest this season. Without his hard work Manchester 62 wouldn't be in the spot they are now. Leading the club with 10 league goals he also collected another one in the Rock Cup. This season he had an average of a 7.15 rating. Even though players such as Jeremy Lopez had such stellar seasons as well, it was John-Paul whos play helped this club turn the season around.
Other Awards:
With the 2015/16 season over we present to you the end of season rewards. Voted by you the fans and the media each player deserves the award(s). Congratulations everyone!!!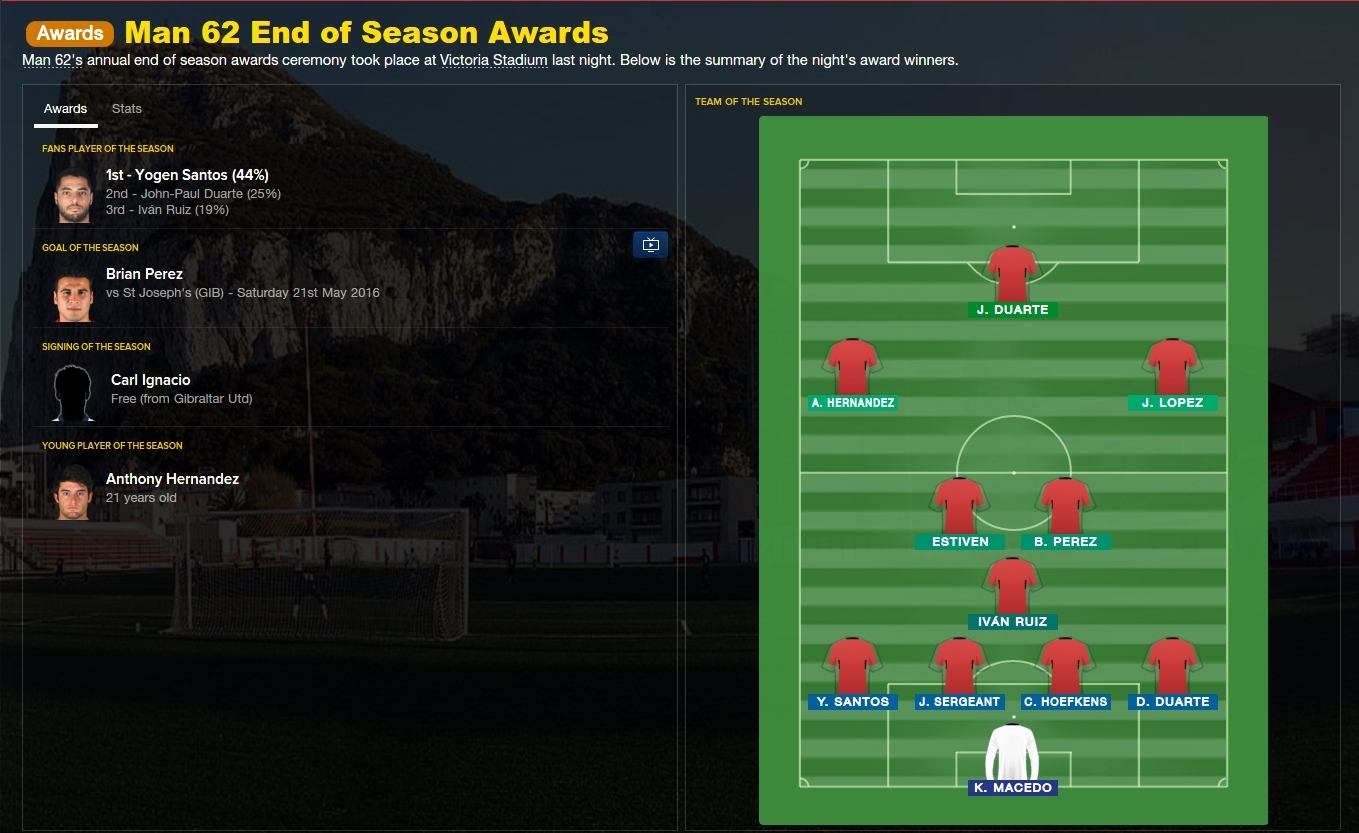 Managers Thoughts:
Wow this is crazy how good we turned this season around. It took a little longer than it really should have but we did it and are now off to Europe. This was a pretty mixed month and it does not bother me as this club already locked up third. I am glad that the final match of the season was a victory over a rival.
What to look forward to in 2016/17:
The Red Devils will now be participating in the Europa League for the first time in club history. This is going to be huge for the club as they enter the first round of the competition and are looking to have a good run in it. Now it is highly likely they will go far but this team is ready. Other than that the club will have the league and the two cups to look forward to.
Thanks for a great season and Glory Glory Man 62!!