4 Out as Liverpool Rebuild Continues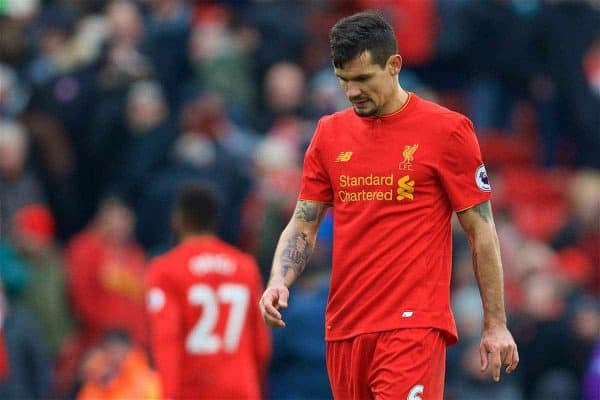 ---
As we move ever closer to the new season, Liverpool have confirmed the departures of three players, including much-maligned defender Dejan Lovren, who makes the switch to Tottenham in a deal worth around £32m. Also departing Anfield are Lazar Markovic and Ragnar Klavan, while Striker Danny Ings moves to Watford on loan for the season.
Dejan Lovren
has left to join Tottenham Hotspur, and despite them being a league rival, fans seem confident that the transfer leaves them in a stronger position than Spurs, as they have offloaded a defender who had often been pinpointed as making glaring, game-changing mistakes at key moments. It is highly likely that the funds raised from this transfer will be re-invested in the squad and fans are pressing for a top-class replacement for Lovren.
Ragnar Klavan
has also found himself on the move, having failed to impress in his 20 starts last season. The 31 year old has moved to Monaco for £5m, and it is thought his departure opens up space for one of the club's younger centre-backs to step up into a more involved role.
Lazar Markovic
is also moving on after failing to impress since his £20m move from Benfica in 2014. Markovic has spent the last 3 seasons out on loan, first at Fenerbache, then Sporting, and most recently Hull, however 3 goals in 3 seasons at lower-caliber opposition has not been enough to secure Markovic's future, and the Serbian has moved to Leverkusen in a £5.25m deal.
Danny Ings
moved to Liverpool from Burnley in 2015, with the Anfield club paying almost £7m in compensation for the striker who had been out of contract. He scored 2 goals in 6 games that season, before being sidelined with torn knee ligaments in October 2015. Ings was out for 6 months with that injury, but failed to make another league appearance, before damaging the Cartilage in his knee in October 2016, which kept him out of action for 7 months, and many have claimed he has never fully recovered from those injuries. Ings has suffered a total of 4 long-term knee injuries in the last 5 years, and is sure to be hoping this loan spell with Watford can kick-start his career. The Hornets have the option to buy Ings for around £10m at any point, but even if that move doesn't materialise, there is a massive opportunity for the Englishman to make an impression.