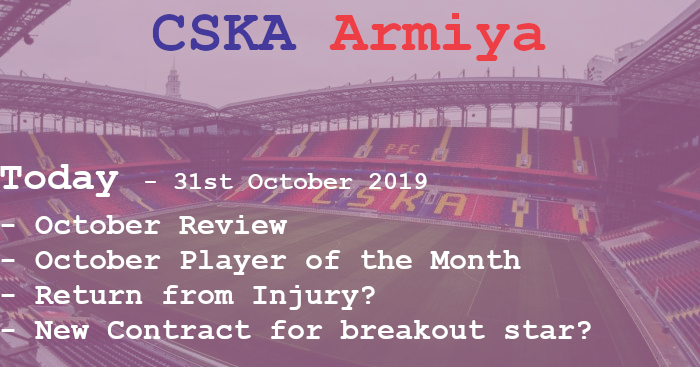 Maksim Smirov
- Another month, and another disappointing end to what was looking like a positive month. October started off with four straight victories but a draw and defeat to end the month, once again puts a dent in our ambitions.
Maksim Smirnov
- The month started off with two massive pieces of news. Firstly, Ilzat Akhmetov, has signed a new deal with the club. The 21 year old added an extra year to his deal whilst almost quadrupling his wages. The deal was reportedly offered to the midfielder due to interest starting to develop in the playmaker, with Luke Hendricks seeing, Ilzat as a key man to his future plans.
The second piece of news was also welcomed with open arms, as it was announced that Georgy Schennikov had begun his rehab from his broken ankle. The Russian international, had been out of action for five months and having gone through a successful rehab, he is said to be back in training tomorrow.
Vadik Vassily
- Off the back of the exciting news surrounding the club, Luke took his side to Lugano to play in their second Europa League game of the campaign. The boys didn't disappoint. Lucas Santos gave us the lead just a minute into the game, with last months, Player of the Month, Fedor Chalov scoring the second just a quarter of an hour into the game. Fifteen minutes later and it was three. Arnór Sigurðsson scored to put us into an unassailable lead. Ilzat Akhmetov celebrated his new contract with the fourth goal, before they grabbed a consolation in the 83rd minute.
Sergei Titov
- That victory was followed up by yet another magical performance from our Icelandic star, Arnór Sigurðsson. The left winger scored his first hat trick of his career, including a 95th minute penalty. Luke following the game heaped praise on his young player.
Luke Hendricks:

---

"Tremendous, that is all I can say about him today, tremendous. He has adapted brilliantly to the way we are trying to play and has been so key to everything we do. I believe that is now goal number ten for him this season and it isn't even November yet. That for a winger is an excellent return and nobody can doubt for one second how important he is to this team."
The game wasn't as runaway as the previous however, as Giorgi Chanturia equalised for Ufa after Ilzat Akhmetov had given us the lead. But Sigurðsson's second half hattrick allowed us to take home all three points.
Maksim Smirnov
- Then came what was supposed to be our first test of the month, a derby day against Lokomotiv Moscow. With just two places separating us, nobody would have expected the defeat we inflicted on them. Ten minutes in, Lokomotiv got off to the worst possible start, with full back, Dmitry Zhivoglyadov, gifting us the lead through an own goal. From then on the game was reasonably tight, but two late goals from Ilzat Akhmetov and Fedor Chalov, ensured the 3-0 victory, lifting us to a season high of second place in the table.
Vadik Vassily
- A theme of the month seemed to be the side getting off to a flying start, the match against Maccabi Tel Aviv was no different. With ten minutes on the clock, Lucas Santos opened the scoring with an excellent strike from outside the area. In a dominant performance, we looked to go two ahead and were given the perfect chance when Fedor Chalov stepped up to take a penalty awarded on the 41st minute. However, the striker missed his second penalty of the month. That was quickly forgotten, when Ivan Oblyakov scored his second of the match, just sixty seconds after the penalty miss. Lassana N'Diaye capped off the game to score his first senior goal of his career, twenty days after his 19th birthday.
Sergei Titov
- With what had been an incredible month so far, the Arsenal Tula game is one that many will want to forget about. In a game where many chances were created, we just couldn't finish them off. Nikola Vlasic came closest, hitting the post inside ten minutes, whilst on the twentieth minute, Ilzat Akhmetov forced a great save. But it wasn't to be and for the first time in the month, we dropped points.
Maksim Smirnov
- That disappointing result would only be compounded in the Kubok Rossii 6th round tie against Dynamo Moscow. With a place in the Quarter Final on the line, we were terrible from the get go. Sebastian Szymanski gave them a much deserved lead, before four minutes into the second half, Fedor Chalov slotted a penalty to tie the game. Then with seconds to go before extra time, substitute, Jaka Bijol shockingly gave the ball away on the edge of the area with a terrible touch, allowing Rifat Zhemaletdinov to put his side into the next round. A clearly animated Luke, wasn't happy.
Sergei Titov
- As he should be, it was terrible. Jaka needs to go out on loan somewhere, he isn't good enough for this level yet and needs game time. That touch was just atrocious and cost us in the end. That Dynamo side isn't even close to our level and where we should be aiming, but they completely outclassed us and I think Luke will be making that clear to the boys before Sunday's game.
Maksim Smirnov
- Vadik, can we let the last couple of games deflect from what was a positive month overall?
Vadik Vassily
- I think we can and we should in some ways, as we weren't good enough in ⅓ of our matches this month. We need to be aiming for perfection and that is what Luke aims for. But we can't knock the fact that we are still unbeaten in the league and currently sit 2nd with a game in hand. Whilst also winning all three of our Europa League games so far. We will see matches like this, it is still early in Luke's managerial campaign, but we should still acknowledge those disappointments.
Maksim Smirnov
- Back on the positives, who has impressed you this month?
Vadik Vassily
- There is one clear standout for me. Arnór Sigurðsson, July's Player of the Month, hasn't stopped impressing this season, particularly this month. Four goals and an assist in his three games is a ridiculous return and his presence was clearly missed following his injury against Tel Aviv. We missed him for the Tula and Dynamo games, and it was clear that our creativity wasn't there.
Sergei Titov
- 100%. It can't be anyone but Arnór this month, for that hattrick alone he deserves it. Playing in that left wing role that Luke played for years, he has been spectacular all season and is at the moment my player of the year. But his performances are reportedly gaining interest from Brighton, in the Premier League and Wolfsburg from Germany. He still has four years on his contract but with interest rising, I hope we can keep a hold of him.
Maksim Smirnov
- Once again well deserving of the award. We now head into November, with a further five games, four of which will be consecutive away games. We first host Krylya Sovetov before travelling to Maccabi Tel Aviv, Ural, Krasnodar and Dinamo Zagreb. Thoughts on the month ahead?
Sergei Titov
- A tough tough month coming up here, especially with all the travel we will be doing. Sovetov have dropped off and haven't won a league game in seven, so I expect us to beat them. Israel will be a tough place to go but again I will expect a win there, as well as at Ural who have been poor this year. Krasnodar could inflict our first defeat of the month on us and I expect they will be favourites for the game, whilst Zagreb, I expect will be another tough game and a draw would be a good result.
Vadik Vassily
- It will be a tough one, no doubting that. I think we can expect seven points in the league, with wins against Sovetov and Ural. Whilst a win against Tel Aviv will secure us qualification so I wouldn't be surprised if we rotated against Zagreb.
Maksim Smirnov
- A month of travel is ahead, and we will have it covered for you here on our next monthly review, for now thank you for watching.
*Taken from CSKA Armiya Youtube Channel posted 31st October 2019*
Replies
Syb:
Was wondering where you and your puns had got to.
Jim:
It was a tough month but we managed to get through the majority, for some reason we just seem to stop playing football at the end of the month.
Jack:
It is a beautiful sight indeed!