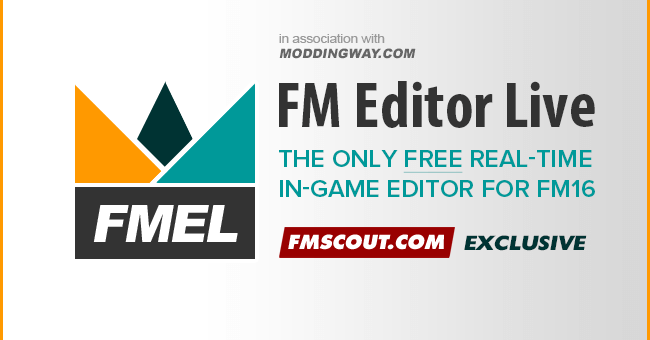 FM Editor Live 2016 is a simple real time editor for Football Manager 2016 that allows you to edit data of your loaded FM16 save-game on the fly. FMEL is the only real-time editor that works with the FM Touch mode.
The only FREE real-time editor for FM16.
FMEL is exclusively available from fmscout.com
Redistribution Policy:
People who want to put FM Editor Live 2016 on other sites, you may link back to this very page but you cannot host any files yourselves. Thank you!
This tool is released for FREE, as we feel you shouldn't be forced to pay for 3rd party tools of a game.
Released
: 20 April 2016 - alpha version
Updated
: 1 August 2016 - v1.0.1
Why did it take so long this time?
The work on FMEL 2016 started when FM16 Beta was made available. The plan was to code everything from scratch using an entirely different framework. A month's efforts were in vain as we encountered technical issues with the framework of choice. As a result we had to make a new choice and start all over again. Work and real life got in the way and postponed the development indefinitely. Around the end of February, svita (lead dev) confirmed that he could resume progress. After failing the deadline for a couple of times, we reached the second half of April and FMEL 2016 is ready in alpha state.
Alpha version disclaimer
Please note that this initial alpha version is more meant for testing, so please keep your expectations low. We decided to release it at its current state to show that FMEL is not dead (at least not yet) and to gather feedback for the next (possibly beta) version.
Requirements
►
.NET FRAMEWORK 4.5
(standalone offline installer) or higher
To find out if you have .NET Framework 4.5 installed, you can use
Framework Detector
(free tool). In theory, you'll need to download this only if you have Win XP; newer Windows should have that requirement covered by default.
► Patch 16.3.2,
Patch 16.3.1
(International)
To use this version of FMEL, you must have your game updated with 16.3.2 or 16.3.1.
►
Microsoft Windows
Compatible with Windows XP (SP3), Vista, 7, 8, 10.
If you're looking for a similar tool for Mac, please check out MacAssistant RT for FM16 (another exclusive tool we release).
Features
FMEL allows you to search for the club and person of your choice and edit:
Clubs
Transfer Budgets (Season and Remaining)
Wage Budget
Overall Balance
Persons (just Players in alpha version)
Heal (condition)
Birthday
Height / Weight
Current Ability / Potential Ability
Reputation (Current, Home, World)
Attributes *
*
If you open the profile of the player you edit attributes of, you need to hit the 'continue' button in-game until it loads to the next point for the changes to take effect.
How to use
1.
Extract
the downloaded
FMEditorLive2016a.zip
and run the .exe file. Complete installation.
2.
Run Football Manager 2016
, and load your save game (or start a new one).
3.
Run FM Editor Live 2016
(ALT+TAB to desktop first if you're running FM full screen).
4. Click the "
Open
" button.
5. Enter player's name in the
Search
input box and hit Enter.
6. Double-click on the player's row. Edit what you wish in the 2 tabs available (Information, Attributes) and click Apply.
7. Switch to the "Clubs" tab. Enter club's name in the Search input box and hit Enter.
8. Double-click on the club's row. Edit what you like within the Finances tab and click Apply.
Bug Reports
Even though we have tested this alpha version, we expect that you may be able to find bugs. If you do, please report it in the comments below.
Describe the exact steps that triggered the bug
(to help us replicate it). Also
upload your save game
to a free file hosting site (such as sendspace) and provide a link to it so we can test it directly. Thank you!
Credits
This tool is an
FMScout.com
and
Moddingway.com
association.
FMEL is created by
Stelios
.
Coding contributors:
Thanos (creator of MacAssistant RT) who ported FMEL to work with FM14 and helped with information and research over the years.
Panos who has been a major help with research and development for the 2016 edition.
Many thanks to:
Eugene
(Information & Research) and
Stam
!
Logo by
Stam
.
Changelog
1.0.1
- Support for 16.3.2
- Decreased the file size of the installer
alpha version
- Initial release, support for 16.3.1
- Brand new UI