It's safe to say that 2022 is the year of the Kashmir as Knap has released way more variations of this particular tactic system compared to any other system of his.
This is
Rober
's favorite tactic as it takes no hostages and goes forward chasing goals no matter the costs. That means you might win by a big margin (say 9-0), or you might lose.
Extreme gegenpress
combined with 3 strikers and often attacking wing backs, no one is looking to stay calm here. We want goals!
The midfield has a CM and a Mezzala who both get forward as well, leaving the DM alone with the two ball playing CBs, as the wing backs also want to score!
There are some variations with different formations, but Kashmir is mostly a 433/451 with the above key roles.
Playing out of defence with short passing means you will need great players. In fact
this tactic demands it all
. Stamina and physics as you run all day chasing either the ball or a goal. High mental attributes to make the right choices under pressure. And of course technique to handle the tempo and tiki taka.
Top teams only
.
Who plays like this:
Zednek Zeman
's teams.
Knap has been creating Football Manager tactics since FM 2008. Knap tactics have raked up thousands and thousands of downloads because of his constant testing and tweaking throughout updates of Football Manager, making Knap one of the best tactic creators in the community.
This year he is back with more than 25 tactic systems! We aim to present them all here at FM Scout, and welcome you to test them out and give us feedback in the forum.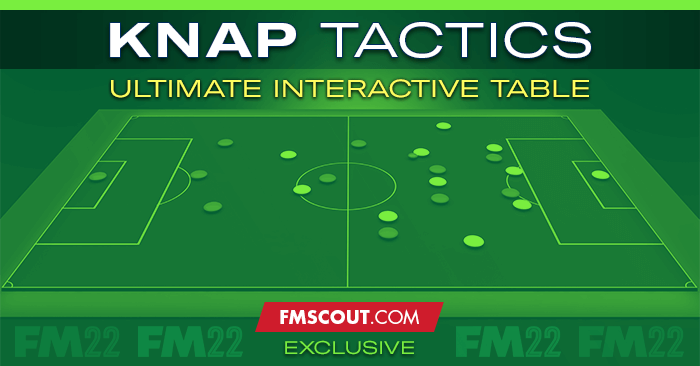 What's included in the KASHMIR Bundle of FM22 Tactics
You will find 69 variations of Kashmir Tactics inside this bundle. They apply to all versions of the FM22 Match Engine, starting from the Beta all the way to the latest patch.
Credits
Most of the text above was written during 2020 by
Rober
and
RDF Tactics
.
Thanks to Knap for the kind permission to share his work on FM Scout.