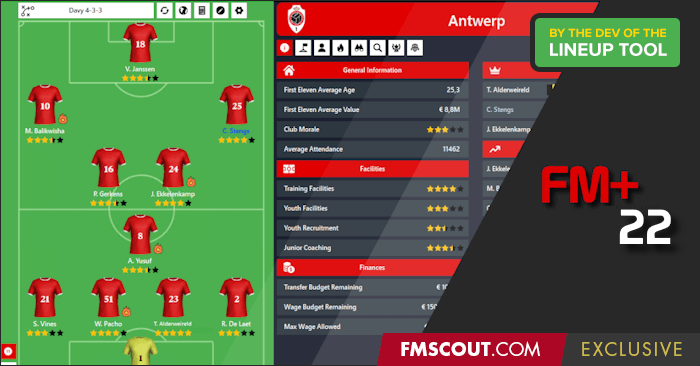 FM+ is your go-to assistant, specially crafted for managers with tight schedules. Eliminate guesswork and seize control with real-time insights, reliable guidance, best eleven advice and quick player analysis. With FM+, you'll get familiar with any team in seconds and conquer Football Manager effortlessly. Maximize your limited gaming time and experience the thrill of success.
Reliable Assistance
Say goodbye to conflicting advice from in-game assistants and coaches; FM+ offers unwavering trustworthiness, enhancing your decision-making and team management.
For those of us with busy lives, FM+ is a game-changer. By eliminating the need for endless analysis and guesswork, it grants you precious hours to truly savor the heart-pounding excitement of Football Manager. Say goodbye to the frustration of deciphering unreliable in-game advice and hello to more genuine playing time, all while nurturing your team to glory.
Everything (except scouted players) operates in real-time, seamlessly integrated with your FM game, eliminating the hassle of loading savegames or creating exports
Effortless Squad Mastery
FM+ provides instant insights into your team's best lineup, player rotations, and youth prospects, making you a tactical maestro without breaking a sweat.
FM+ maintains the immersive charm of Football Manager by keeping star ratings relative to your team, just as you'd find in the game itself. However, what sets it apart is its unwavering trustworthiness.
Unlike other editors that divulge real Current Ability (CA) and Potential Ability (PA) numbers, FM+ keeps the mystery intact, ensuring you enjoy the thrill of discovery while confidently relying on its insights for an authentic gaming experience.
Scout with Precision
Quickly identify top prospects by importing and analyzing your scouted player list, streamlining your recruitment process for a more efficient and strategic career in Football Manager
When taking the reins of a national team, FM+ seamlessly adapts its features to cater specifically to your needs. It becomes your invaluable guide in selecting the right players to call up, ensuring your national squad is the best fit for your tactic.
Whether managing a club or a country, FM+ is the ultimate companion for achieving success and glory in the world of football.
Premium Edition
No season limit (Free version loads only data from game start year)
Import your scouted players
Support for managing National teams
Calculate best tactic for your team / Compare tactics
View World's best players and Next gen list
Create filter directly in FM for who to callup for your national team
Open player you are viewing in FM+ directly in FM
A premium license key is a one time € 5.99 payment (no subscription)