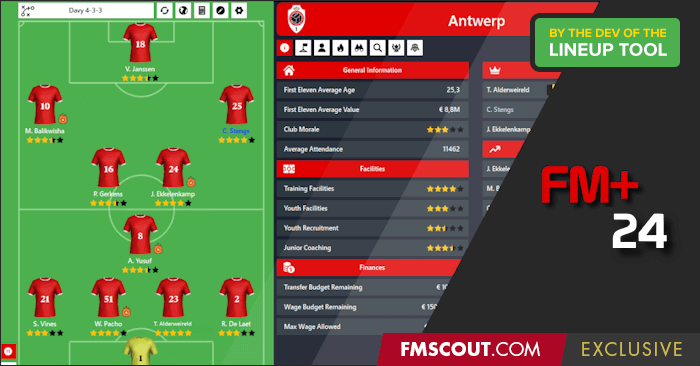 FM+ is the tool that will help you with your lineup, tactics and will provide consistent player ratings of both your own team and your scouted players. Eliminate the micromanaging and time lost trying to understand the contradictory ingame advice.

Do you recognize any of these frustrations playing FM? If you do, FM+ is the tool for you, as it solves all of these things!
All your coaches and staff rate your players differently and give them different stars, impossible to know what to believe
Different screens show different advice, Quick Pick, Player Page, Tactic Page, Selection advice, so confusing where to look for the correct advice
With all the different advice it's hard to know what your actual true best lineup and available lineup is
There is no easy way to compare tactics in FM and check which suit your players best
You don't have time for extensive scouting, or when you do, you finally land that top target you had and he turns out to be a 2.5 star bench player because the advice of your staff was incorrect
When you get offered a new job, you are enthusiastic to dive right in, only to find out it take hours to get to know the team and you have to look through so many data packed screens
Same thing when you pick up an old save, ready to go, just to find out you forgot all about the team and it takes so much energy getting back into your save
Developing youngsters takes time, but it's hard to know which youngsters are actually worth your time. You have to choose to spend to much time analyzing which are really worthy, or spend to much time managing to many of them "just to be sure", and before you know you're thinkering if you have to loan out player X who will in the end never reach 2 stars CA
In the earlier days, you had lots of time to play FM, now you have to squeeze in FM sessions and you want to make the most of your time, so you don't really have the time for all the frustrations above and want to enjoy FM, playing games and progress through your career
Sounds familiar, There's some good news, FM+ solves all those frustrations and will give you back the FM joy you are looking for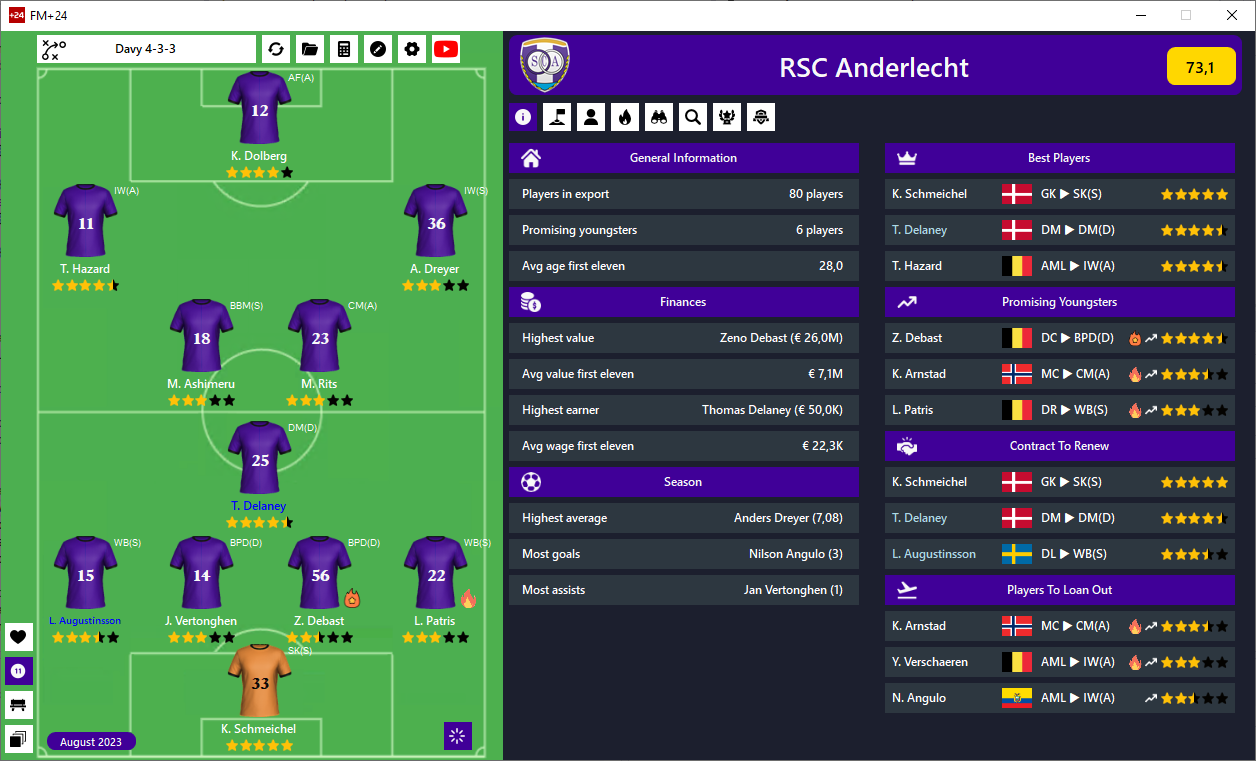 FM+'s top features
Lineup advice: Best eleven, bench, squad depth and best available
Tactic advice: Compare tactics and see which tactic gets the highest score for your players
Comprehensive star ratings: Players (both own & scouted) get a clear CA & PA star rating that is not subjective to any staff member, simple, good and trustworthy
Seperate page to manage your youngsters, see who's worth putting your effort in and how good they'll probably become
Load your scouted players into FM+ and get a trustworthy opinion on them, after signing them, their star rating will stay the same
Team info: Get familiar with a new team, or with an old save in the blink of an eye. FM+ shows you in a single page a summary of your team, who are the stars, who are the brightest youth prospects, who you should loan out and who you should offer a new contract.
This is a no-cheat tool, it doesn't use any hidden info like other editors, all information shown comes from values and attributes visible to the player. The tool automates what you can do in your head, on paper or in Excel in a much faster and more user friendly way
Can't get enough of FM+24? there is a premium version which will unlock more FM pleasure and game-time for you
Premium Edition
No season limit (Free version loads only data from game start year)
Import your scouted players
Support for managing National teams
Calculate best tactic for your team / Compare tactics
View World's best players and Next gen list
Create filter directly in FM for who to callup for your national team
Open player you are viewing in FM+ directly in FM
A premium license key is a one time € 5.99 payment (no subscription)

Before buying the premium version we strongly suggest you to try out the free version to check compatibility with your system and FM game. As FM+ is a spare time project next to a fulltime job and family life, we do not guarantee any support or refunds when things are not working as expected. That is why there is a free version to try out
How FM+ works
FM+ now uses exports made from Football Manager instead of directly reading the FM process Memory (like older FM+ versions did).
This might seem a bit more complex at first, but it comes with a lot of benefits compared to "reading from memory":

All players are available, also those who became Player/Staff
FM+ will keep working after FM has been patched, no update to FM+ needed
No-Cheat tool, FM+ is purely based on what you can 'see' as a player
A lot more stats accessible for FM+ to make the tool even more immersive and useful
FM+ is no longer dependent on the work of others or on the memory structure of FM
However a "quick load" option might be added in the near feature, now that it has been announced that there will come an updated version of the component that can read directly from memory
Supported FM Languages
Since FM+ now uses exports to show you the data (explained above), the language in which your FM is set is now important.
At the moment following FM languages are supported. (we might add extra languages in the future):


English
German
Spanish
Italian
Dutch
French
Portuguese
Greek

Current supported currencies:
"HK$", "$", "€", "¥", "£", "₹", "₽", "₺", "₿", "฿", "₫", "zl", "kr", "DKK"